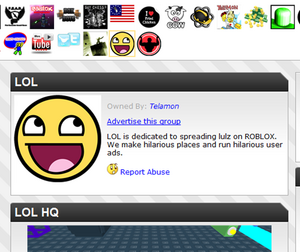 The feature that allows you to advertise your group was released on February 3, 2011. You can now make an ad that leads directly to your group.
Creators of groups can also turn on and off the option to give any rank in the group the right to advertise the group freely in the Group Admin location.
With the new Group Funds feature, group owners are now able to use the ROBUX credit in the group store to advertise their group.
See Group
Ad blocker interference detected!
Wikia is a free-to-use site that makes money from advertising. We have a modified experience for viewers using ad blockers

Wikia is not accessible if you've made further modifications. Remove the custom ad blocker rule(s) and the page will load as expected.