An
arm
on Roblox is a brick that is part of a humanoid that goes on the left and right of your
Torso
. An arm is precisely 1 unit wide, 1 unit long, and 2 units tall.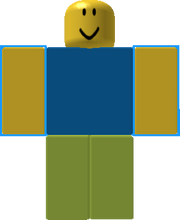 A package comes with a left arm and a right arm.
Trivia
This section is a trivia section. Please relocate any relevant information into other sections of the article.
Robloxians hold tools with their right hand, which means deleting the right hand will make a user not able to use a Tool. HopperBins, however, do not need an arm to do something.
The arms can go through a brick that has the CanCollide function enabled, since arms have this value off.