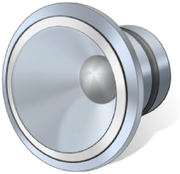 Audio
is an
asset category
in the library. Audio assets can be used within a place through
Sound
objects.
User-uploaded audio
Uploading audio was only limited to administrators.
On September 25, 2013, players could upload MP3 files to be published (after moderation). Before player-uploaded audio was permitted, sounds were only able to uploaded to the catalog by administrators; most of which was provided by ROBLOX or RobloSam. When it was originally implemented, the system only allowed 15 seconds of audio and costed a player 250 ROBUX per audio asset, allegedly set up to prevent misuse of the feature. However, a loophole was discovered shortly afterwards, in which players could technically upload a full song by speeding it up to the point where the song's duration became 15 seconds, and creators could tweak the pitch to be lowered at a specific value (which was usually predetermined by the uploader in the description), for the full song to play normally.
Changed limits
On January 15, 2014, ROBLOX increased the sound limit to 120 seconds, 8 times the length of the previous limit, and the cost decreased by 60% to 100 ROBUX, allowing longer audio to be uploaded for a lower price. The update proved to be successful, as it reduced the hassle of uploading multiple short samples of a long audio and also reduced the complications that came with the pricing.
On September 26, 2016, the sound limit was increased to 6 minutes, while the cost would be changed to a dynamic pricing system.
| Length | Price |
| --- | --- |
| 0–10 seconds | 20 ROBUX |
| 10–30 seconds | 35 ROBUX |
| 30 seconds–2 minutes | 70 ROBUX |
| 2–7 minutes | 350 ROBUX |
On October 6, 2016, the dynamic pricing system and 6 minute audio limit would be temporarily retired while some issues would be fixed. About a week later, 6 minute audio returned. It is unknown why it was temporarily retired.
As of December 1, 2016, the audio limit has been increased to 7 minutes.
Sound ID
Each Audio, like other objects, has a unique ID found in the URL of their audio page. Unlike other objects, audio IDs do not need to be subtracted and are given directly. Audio IDs are used when creating

Sound objects.
More information can be found on this tutorial.
Trivia
This section is a trivia section. Please relocate any relevant information into other sections of the article.
There is a bug where some audio files stop playing after a couple seconds. This bug only occurs on the website.
Some users have gotten banned by the moderation system for uploading audio that was considered too loud.
Ad blocker interference detected!
Wikia is a free-to-use site that makes money from advertising. We have a modified experience for viewers using ad blockers

Wikia is not accessible if you've made further modifications. Remove the custom ad blocker rule(s) and the page will load as expected.