BLOXtober 2015 (also known as Hallow's Eve 2015) is a traditional sponsored developer-made ROBLOX event that takes place all through October.
Gifts
Main article: Gift Hat
Games
Another thing that usually happens during BLOXtober is the ROBLOX Halloween Event. This year the halloween event was not like in former years, held in one place, but several. These consisted of Ripull Minigames, Work at a Pizza Place, and an all new rail shooter game called Halloween Zombie Strike.
All the games, and the event, were sponsored by Nerf.
Prizes
These were the prizes you could obtain through playing the different games. In order to get the hats, you had to find/shoot zombies wearing them.
| Prize Image | Prize Name | How to obtain | Prize Type | Game |
| --- | --- | --- | --- | --- |
| | Nerf Bandana | This zombie spawns at set locations in the map. | Hat | Work at a Pizza Place |
| | Nerf Chest Armor | This zombie spawns in set locations in the lobby, a tip is to turn AFK mode on when looking for it. | Hat | Ripull Minigames |
| | Nerf Tactical Vest | A player receives this item when they shoot the tiny zombie wearing a vest. | Hat | Zombie Attack |
Reception
Hallow's Eve 2015 was panned by users due to the general bugs, issues with its rewards and the lack of effort put into it. The community also panned it for its repetitiveness, unresponsive controls, and overall boring gameplay, and also hated it for its promotional items. The BLOXtober gifts were also criticized for the bad re-textures of gifts that were around 50 ROBUX - 100 ROBUX. The Classic Gift of Timeless Taste was criticized for being a re-texture of the Classic ROBLOX Pumpkin, which was 31,000 ROBUX during the event. It was also criticized for not having a new mesh, like Brighteyes promised. Hallows Eve 2015 is considered to be one of the worst events on ROBLOX.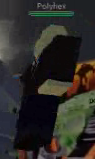 Investigation and later confirmation from the developers themselves revealed that both ROBLOX and NERF were forcing them to rush the project and intentionally upload low-quality content to meet their agendas. This was met with harsh criticism from the general developing community.
Gallery