For similar titled events, see BLOXtober.
BLOXtober 2015 (also known as Hallow's Eve 2015) is a traditional sponsored developer-made ROBLOX event that takes place all through October.
Description
"Eradicate entire hordes of zombies at one time with this hardcore Zombie Strike Doominator blaster! The blaster's 4 flipping drums hold 6 Zombie Strike darts apiece and they rotate as you fire so you can fire up to 24 darts without reloading. Load up all your drums with the included 24 Zombie Strike darts and hit the streets to wipe out those lurching, staggering zombies. You'll clear the battlefield with your Doominator blaster! Nerf and all related terms are trademarks of Hasbro. This is advertising."
Gifts
This list features all gifts that were purchaseable during the event.
Games
Another thing that usually happens during BLOXtober is the ROBLOX Halloween Event. This year the halloween event was not like in former years, held in one place, but several. These consisted of Ripull Minigames, Work at a Pizza Place, and an all new rail shooter game called Halloween Zombie Strike.
All the games, and the event, were sponsored by Nerf.
Prizes
These were the prizes you could obtain through playing the different games. In order to get the hats, you had to find/shoot zombies wearing them.
| Image | Name | Objective | Prize Type | Game |
| --- | --- | --- | --- | --- |
| | Nerf Bandana | This zombie spawns at set locations in the map. | Hat | Work at a Pizza Place |
| | Nerf Chest Armor | This zombie spawns in set locations in the lobby, a tip is to turn AFK mode on when looking for it. | Hat | Ripull Minigames |
| | Nerf Tactical Vest | A player receives this item when they shoot the tiny zombie wearing a vest. | Hat | Zombie Attack |
Reception
Hallow's Eve 2015 was panned by users due to the general bugs, issues with its rewards and the lack of effort put into it. The community also panned it for its repetitiveness, unresponsive controls, and overall boring gameplay, and also hated it for its promotional items. The BLOXtober gifts were also criticized for the bad re-textures of gifts that were around 50 ROBUX - 100 ROBUX. The Classic Gift of Timeless Taste was criticized for being a re-texture of the Classic ROBLOX Pumpkin, which was 31,000 ROBUX during the event. It was also criticized for not having a new mesh, like Brighteyes promised. Hallows Eve 2015 is considered to be one of the worst events on ROBLOX.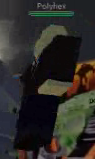 In the middle of the event, a private message from Davidii where he talked about how he and Quenty had very little creative control over the gamem was leaked to twitter. Although many speculated it was fake, it was later proven to be real by Davidii himself in a forum post. Even though David stated that he did not hate Nerf, many forumers lashed out against the company.
Links
Gallery