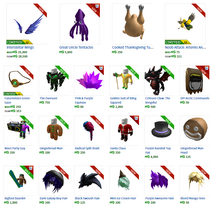 The Black Friday sale is a yearly event where several items from the catalog go on sale, at a discounted price, go off sale or become a limited item. New items can also be possibly made. Notable items that go on sale on Black Friday include the Silverthorn Antlers and the Big and BiggerHeads.
Trivia
This section is a trivia section. Please relocate any relevant information into other sections of the article.
When the 2016 Black Friday sale ended, certain of the catalog items' prizes stayed the same, and they were remained unchanged until a week later. It is unknown why this happened.
Ad blocker interference detected!
Wikia is a free-to-use site that makes money from advertising. We have a modified experience for viewers using ad blockers

Wikia is not accessible if you've made further modifications. Remove the custom ad blocker rule(s) and the page will load as expected.