The Bloxxer Badge was a badge released on December 22, 2006[1] and was awarded to players who reached at least 250 knockouts and had more knockouts than wipeouts. On July 8, 2015, the badge was retired along with the Combat Initiation and Warrior badges because the feature it was built on became outdated, and that people were using places to get free KOs and WOs.
Description
Before 2015: Anyone who has earned this badge is a very dangerous player indeed. Those ROBLOXians who excel at combat can one day hope to achieve this honor, the Bloxxer Badge. It is given to the warrior who has bloxxed at least 250 enemies and who has tasted victory more times than he or she has suffered defeat.
As of 2015: This badge was granted when a player scored at least 250 victories, and fewer than 250 wipeouts, in games that use classic combat scripts. It was retired Summer 2015 and is no longer attainable.
Trivia
This section is a trivia section. Please relocate any relevant information into other sections of the article.
On January 8, 2007, 44 users had the Bloxxer badge. A day later, 45 users had the badge.[2]
On October 14, 2014, the image changed to a more smooth image.
References
↑ "ROBLOX Badges" Blog Post by Builderman on December 22, 2006
↑ "The Bloxxers Club" Blog Post by Builderman on January 8, 2007
Gallery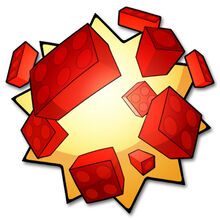 The image from 2007 to 2014
Ad blocker interference detected!
Wikia is a free-to-use site that makes money from advertising. We have a modified experience for viewers using ad blockers

Wikia is not accessible if you've made further modifications. Remove the custom ad blocker rule(s) and the page will load as expected.