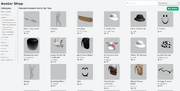 The Catalog is the place in ROBLOX where you can buy stuff with
Tickets
or
ROBUX
. These items include
Heads
,
Faces
,
Gear
.
Hats
,
T-Shirts
,
Shirts
,
Pants
, and
Packages
(with Body Parts). Due to the fact that most Places are copylocked, and some Models are not on Public Domain, these cannot be bought, or rather, taken. If one of the other items is not being sold, is
Limited
, or
Limited Unique
, then those items cannot be bought either.
Under the For Sale section of the Catalog you can find four types of object currently being sold: BC (Builders Club) Objects; Limited to only BC members. LimitedU Objects; Limited to a certain amount of the object until sold out. Limited Objects; Limited to only a certain of time being sold, after that it will be no longer be available for sale.
Sponsored items were originally usually sold for 1 Ticket. Since the removal of Tix, all of the future sponsored items will be available for free. They often reach over 100,000 copies sold, mostly because of their cheap prices. Some sponsored items can only be obtained through promo codes for a limited time, or occasionally later put on sale.
Under the Public Domain section of the Catalog you can find objects being sold by ROBLOX users. You can find, buy, and favorite items being sold. There are eight categories: Heads, Faces, Gear, Hats, T-Shirts, Shirts, Pants, Packages. All the categories display objects of that gerne; e.g. Under the Hats section you will only find hats. You can also create your own objects and sell them under your account, giving it out to any other users.
Until April 15, 2016, you could use the Trade Currency button to swap Tix for ROBUX. When you used this the money is instantly transferred into your account. This often helped when buying ROBUX items. When you purchase an item it is added to your models, allowing you to use it in the ROBLOX Studio. You can use the Favorite button while purchasing an item to add it to your list of favorites, which makes it easier to find the item.
There is a Commentary box down at the bottom of the purchasing page. Here you can post what you think of the object being sold. When you post a comment, it appears instantly and is marked with the time you posted ('Note: Does not post the actually time, only shows it in Seconds, Minutes, Hours, and Days'.) It will also show with your picture and your name linking to your page. As of late May 2016, the box was removed due to spams, but you can see it on some shirts, pants or T-shirts.
When searching items, there is a "Dark" or "Light" Background button to the left. When clicked, it will change the background accordingly. Under that will be a "Hide" or "Show" Item Details button, and when clicked will also execute accordingly. If you click on an item being displayed, it will show the purchasing page. Here, in the top right of the object visual, will show a box with a picture of the seller and the price. Each object has a category, which is displayed here, along with a short description of the object.
Deep Catalog
The deep catalog is the name given by many players to the strange items in catalog. A notable item in catalog is simply named Item, which is LimitedU. Also some items known as adslkasljdfla'd and The Void Star Gift Box exist in catalog.
Trivia
This section is a
trivia section
. Please
relocate
any relevant information into other sections of the articles.