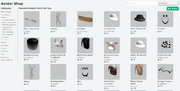 The
catalog
is a section on
Roblox
where users can purchase virtual clothing on their avatar and items using
Robux
. These items include
heads
,
faces
,
gear
.
accessories
,
T-shirts
,
shirts
,
pants
,
packages
(with Body Parts), and Animation Packs. Items which cannot be purchased are known as being offsale, and
limited
or
limited unique
items are available at community-based prices in finite quantities (existing copies are sold rather than new ones being created).
Public catalog
Under the Public Domain section of the Catalog you can find objects being sold by Roblox users. You can find, buy, and favorite items being sold. There are eight categories: Heads, Faces, Gear, Accessories, T-Shirts, Shirts, Pants, Packages. All the categories display objects of that genre; e.g. Under the Accessories section you will only find accessories. You can also create your own objects and sell them under your account, giving it out to any other users.
Issues
When a player loses connection while on the catalog, a red box will appear on top of the catalog, notifying them the catalog is unavailable. When a Limited U item is released onto the catalog they will rarely have the option to not be bought, sold and not have any stock.
Types of items
Under the For Sale section of the Catalog you can find four types of object currently being sold: BC (Builders Club) Objects; Limited to only BC members. LimitedU Objects; Limited to a certain amount of the object until sold out. Limited Objects; Limited to only a certain of time being sold, after that it will be no longer be available for sale. 
Sponsored and free items
Sponsored items were usually sold for 1 Ticket, but since the removal of Tickets, sponsor items are now free. Some sponsored items can only be obtained through promo codes for a limited time, or occasionally later put on sale (for example, the Transylvanian Hood was obtainable for a few days via the code "HOTELT2", but was later on sale for 1 tickets). Free items are some of the fastest-selling items. 
Rental items
Rental items are items that have a set expiration date. Many gears do have expiration times, not limited to gears but other catalog items. Sponsored items such as the Flintstones Car and The Amazing Spider-Man are rental items. They had 4-week and 2-week rentals, respectively.
Timed items
Sometimes, Roblox would randomly make various items that were on sale for a period of time timed, usually so Roblox can focus on other catalog items. Some examples include the Fallen Artemis Bow gear item being marked as timed sometime during March or April of 2016, and the Red ROBLOX Glider gear item being marked as timed during early July 2016. Some holiday-related items or items related to a special event would go on sale sometime before or during a holiday or special event and become timed, and would usually go off sale once the holiday or special event the catalog item is related to is over. An example would be the Classic ROBLOX Pumpkin Head, which is only available during the month of October and would be put off sale once Halloween ends. Some items are immediately marked as timed after they go on sale. For example, the Blue Sparkle Time Bowler was timed for one day for 5,000 ROBUX sometime during the end of June 2016. Occasionally, these items would later become limited items (usually during a sale, such as a President's Day sale, a Memorial Day sale, a Labor Day sale, or a Black Friday sale).
Item comments
There is a Commentary box down at the bottom of the purchasing page. Here players can post what you think of the object being sold. As of late May 2016, the box was removed on every single catalog item created by ROBLOX, but user-created content that have comments enabled are still visible.
Item page
If a player clicks on an item being displayed, it will show the purchasing page. In the top right of the object visual, will show a box with a picture of the seller and the price. Each object has a category, which is displayed, along with a short description of the object.
Deep catalog
The deep catalog is the name given by many players to the strange items in the catalog. A notable item in catalog is simply named Item, which is LimitedU. Also some items known as adslkasljdfla'd and The Void Star Gift Box exist in catalog. There is also an unnamed gear item which only consists of a period in its title, which was never put on sale and is simply a blank gear item. Some players also imagine things and create creepypastas, but the actual purpose of those items is that they are test items.
Trade currency
Until April 15, 2016, players could use the Trade Currency button to swap Tix for Robux. This often helped when buying ROBUX items, since it was a currency that only Builders Club members get a stipend of. When a player purchases an item, it is added to their models, allowing them to use it in the Roblox Studio. 
Criticism
As clothing templates are readily accessible on the Roblox Website, many designers face issues with copying. With many popular clothing items, pages of duplicates may be created by users or clothing groups looking to cut into the original designer's sales on that design, leading to catalog spamming. As there is no way to note original clothing items, players frequently unintentionally purchase clothing that may be copied. Clothing designers frequently see less revenue from their clothing sales when their designs are copied.
Removal of tickets
Tickets were a currency that was awarded to a user when they logged onto their account daily, being 10 tickets a day. Tickets could be used to buy some items on the catalog, but it was removed on March 15, 2016. With the removal of Tickets as a Roblox currency in, the only way to purchase items from the Roblox Catalog is through Robux. Tickets were removed right after the Tixapalooza which caused lots of players to be forced to buy robux or BC in order to buy non-free items. Along with the removal of tickets, the feature Trade Currency was also removed.
Price floor
Initially, clothing assets could be put on sale for a minimum of one Ticket or one Robux. A price floor was added in 2013 that raised the minimum price of clothing to 300 Tickets or 25 Robux. The price floor on clothing currently set to 2 Robux for T-shirts and 5 Robux for shirts and pants, many players are unable to purchase clothing items without purchasing Robux or Builders Club.