Community:Builderman
Talk

5
3,496pages on
this wiki
Builderman
Activity
Inactive
Month joined
March 2005
Membership
Turbo Builders Club
Place visits
Around 7,700,000
Information accurate as of 24/11/2014
Builderman was originally the username of
David Baszucki
, however now his messages along with messages emailed to info@roblox.com now go to the customer support team. David Baszucki is the CEO and founder of ROBLOX, so he is considered the most influential administrator. When an account is created, Builderman is automatically added to your friends list. You can delete him from your friends list without penalty. Builderman has eleven places on his profile, but can have more because administrators are permitted to have unlimited places. Builderman's "King of the Hill" place is his most popular place with more than 800,000 visits as of 21/3/10. His most popular place used to be "Builderman's Hotel", howev
er since the "King of the Hill" place got updated, it has attained many more visits.
Some users who have met the co-founder of ROBLOX, erik.cassel , have heard him say that Builderman is actually a message-answering bot instead of an actual player to avoid being mass-stalked by newcommers.
His only known alternative account is david.baszucki
Builderman was also the first player to reach over 1,000,000 friends, but many people believe this does not count as he is an administrator, and he is everyone's first friend by default. This provoked many people attempt to get 1,000,000 friends, but every try has failed and no other normal player of ROBLOX has 1,000,000 friends. Although he is your friend by default, you can still delete him and remove him from your friends list. Today, he has alot of friends because theres a alot of player joining, he has more than 34,000,000 friends, now hes not online again, the most out of any user.
Username
Builderman's username was originally set to "BuilderMan" in 2006. On around 2007, his name changed to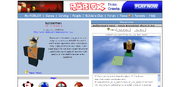 "Builderman." Later on, it was set to "builderman" and still stays as it is today.
Currently he doesn't have a blurb, back then it used to be:
"Hello, fellow ROBLOXians! I am a friendly helpful guy. My job keeps me really busy, so I can't be on for a long time and answer questions.Sorry but there's no way to get free tickets or ROBUX! Those messages are not for real. Thanks! I'm online sometimes but just for a couple minutes. You can send me questions about help topic topics when I am offline!"
Note the part that says "Sorry but there's no way to get free tickets or ROBUX! Those messages are not for real. Thanks!". This is a response to the hundreds of thousands of spam messages on comment boards that tell people to post the exact same message on multiple hats, places, or other assets for free Tickets or ROBUX. None of these messages work, nor are they for real to get ROBUX or Tickets.