Alex 'Clockwork' Quach
was a popular
ROBLOX
administrator
. He was a summer intern at
ROBLOX through 2007
and
returned
for another internship during the summer of 2008. After ending his summer 2008 internship, he went to work at Blizzard, and helped work on Starcraft 2.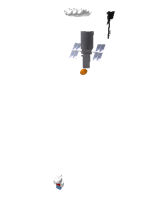 Clockwork has been through many periods of inactivity and sudden activity. Shortly after his 2008 summer internship, his account was hacked, and he was terminated. After his account was unbanned around December 13, 2010, he temporarily returned to ROBLOX around August 1, 2011. His account was later passguessed, terminated, and eventually unsuspended. He later appeared in early 2015, and sold some of his limiteds, then went inactive again. It is unknown if this was actually clockwork or not.
C-Framed places
Two of clockwork's places, Duck and Satellite, are composed of numerous C-framed bricks. Many users believe that there are at least 200 C-framed bricks in each of his places and that it took him approximately a month to build both places.
Trivia
This section is a trivia section. Please relocate any relevant information into other sections of the article.
Clockwork is the creator of the Teapot Turret and the Valkyrie Helm.
A YouTube video was created showing a user gain access to clockwork's account and changing pinned forum posts. It was later taken down after the exploit was patched.
Clockwork published some meshes and images (which were pertaining to modern firearm) to ROBLOX. Some of these meshes (intended for use in Kiseki) are used in popular free models.
He made the Shades which would later be known as Clockwork Shades.
ROBLOX republished Clockwork's Shades for 19358 ROBUX, the same number as Clockwork's user ID.
At one point from very late 2007 to 2008, and then from 2010 to 2012, he had his own YouTube channel named Palmfreak. He used to often post small scripts and other things like Clockwork's Action and Cool Stuff. It is now inactive.