Erik Cassel
(December 16, 1967 – February 11, 2013), formerly known on Roblox as erik.cassel, was a co-founder,
administrator
and Former VP of Engineering on
ROBLOX
. He was fairly active on the website but rarely played any games.
Death
On February 11th, 2013, the Roblox staff said on Twitter that Erik Cassel had apparently "lost his fight with cancer" earlier in the day at age of 45. Keith confirmed it in the late hours in a forum post. As of the forum rekval, there are archived: latest archive and earliest archive
Memorial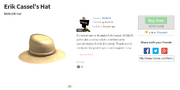 On February 12th, 2013, hundreds of people gathered in the Erik Cassel Memorial [1] to mourn the death of Erik Cassel. Many of these people dressed up as Erik Cassel's character to pay tribute to him. On February 15, 2013, ROBLOX created a shirt called "Official Erik Shirt " in memory of Erik.cassel. The shirt went off sale 8 days later. Also in memory of Erik Cassel ROBLOX changed the name of a hat formerly known as "Well Worn Hat" to "Erik Cassel's Hat" in memory of Erik, and put it on sale for a short time. Roblox put this description on both of these two items.
"To honor our co-founder Erik Cassel, Roblox will make a substantial contribution to cancer research in Erik's name. Thank you to everyone for your respect and support."
Unknown Activity
In May 2014, erik.cassel was online, shocking many players. Some said that he was hacked by an unknown user, others said his younger brother used his account and some players said that his sons were playing on his account, which is the generally accepted explanation.
Trivia
His children's Roblox usernames are stunshocker and redustian
He, Doctor_sally and NerfModder are the only known famous players that have suddenly died while active on ROBLOX.
Strangely, erik.cassel owns a Game Badge named Prove it, which was made on February 3, 2016. This badge is also present on another Admin account. This badge was given to most popular Robloxians, including erik.cassel, due to a feature where you could plant badges into accounts if you had sufficient permission, Clonetrooper1019 added 4 badges when lined up appeared to be "John Doe is not a hacker you goofballs" Clonetrooper1019 is a confirmed intern, the Prove It badge is on the accounts of John/Jane Doe, Telamon, and many others.
His personal e-mails are erik_cassel@pacbell.net and erik@cassel.name
Related links