Sandbox is a building game made by NullSenseStudio. Disputably thought to be published on July 25, 2008 and given an unknown title, the game has been copied numerous times by the community, more notably by Jared2valdez4, however it is constantly being protected by the Moderators from the group 'Sandbox Fan Club' owned by NullSenseStudio. These moderators have admin commands in the game and have obtained them through the creator's trust. Most of the furniture items and models were made by mrstupidworm, the co-creator of Sandbox, while the Christmas items from 2011 were created by Monkey727.
The BC-only version was one the longest recurring games in the BC Only Games bar until it was removed. However, the BC Only Games bar was recently added back and Sandbox BC is likely to stay in it for a while.
In 2013, Sandbox BC became a normal game available to both NBC and BC players. Therefore, it has been renamed to "Sandbox 2." 
Gameplay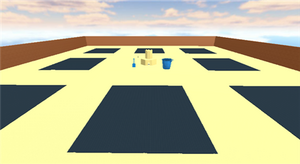 The player spawns at the center of a gigantic 8-plate map, where they can build on their own plate (named Base in the game). Its persistence feature is more complex than other systems, as players can save an undefined number of creations and bring them out in another server for later use.
However, Sandbox's saving system has become outdated, meaning that both exploits and glitches can cause players to lose their files. Once their files are lost, there is no way for them to be retrieved.
Fan Club and Ingame Moderators
Sandbox has many fan clubs including the official Sandbox Fan Club, with over 4000 members. People who join start off as Fans, they may ask to be Builder when showing one of the Moderators in the group one of their creations which is worthy of a promotion. As well as looking at peoples bases the moderators protect the game from exploiters, and rude robloxians with Admin commands that they gained through being friends with NullSenseStudio.
Mrstupidworm has a special rank in the Fan Club since he is the co-creator for the furniture and other models he builds for Sandbox.
Game Passes
Before NullSenseStudio had a Builder's Club membership, his friend Exploitable sold it for him. It was used up until Exploitable lost his BC, therefore some users have been unable to obtain Ultra VIP. Wearing the VIP shirt is not required to activate it, players can still get access to the features by merely owning them.
The level of VIP is increased as players buy more T-Shirts. Also, players can obtain VIP levels in the "VIP Store" in the game. Instead of obtaining shirts, the player obtains gamepasses.
Access to Normal VIP with 1 shirt gives the player a bigger baseplate, resize tool, save transferring and a color tool. The maximum amount of data the player can save is 400k (improved from the 200k a non-VIP player would get.)
Access to Super VIP with 2 shirts gives the user an updated conveyor belt, NPCs, and various food-related items. The maximum amount of data the player can save is 800k.
Access to Mega VIP with 3 shirts gives holiday decorations. The maximum amount of data the player can save is 1200k.
Access to Ultra VIP with 4 shirts gives the player dragon balls with a different number of stars in them and allows the player to create custom NPCs. In addition, players can move around the map quickly using the "Toggle Warp" button. The maximum amount of data the player can save is 2000k.
Ad blocker interference detected!
Wikia is a free-to-use site that makes money from advertising. We have a modified experience for viewers using ad blockers

Wikia is not accessible if you've made further modifications. Remove the custom ad blocker rule(s) and the page will load as expected.