This page is a candidate for
deletion
. If you disagree with its deletion, please explain why on
its talk page
. Do not blank this page or the talk page, as that is
vandalism
.
Reason given for delete template: Guide already exist on the "Group" page.
One big box!
Creating your own group is actually a pretty simple process. Before we get going though, first you should figure a couple things out.
Why you want to have a group. Remember that you're investing 100 Robux into the new group, so it should be something that has a good purpose to it. If you're making a group to stand around and worship pickles it may not be worth that 100 ROBUX. On the other hand, if you're going to have a group of crazy road hogs that raid driving maps and have fun, it probably is worth it!
How do I want people to join? This is a question that can be changed later, but to start, you need to know if you want anyone to be able to join your group or just people who you allow in. Also, you may want to have only Builder's Club users in your group.
If you can answer these questions, then you're ready to make your group! Open up the Create a Group page from My Roblox > Groups.
You'll get a big page that looks just like this: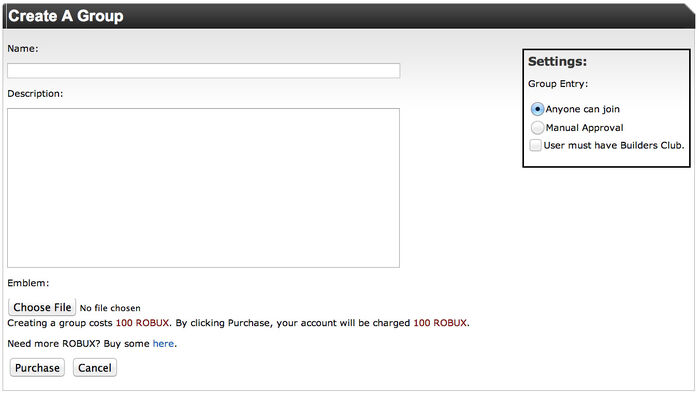 Here's how to create your group:
Start with the Name of your group. Think wisely, you can't change this!
Next comes the Description. Fill in what your group is about.
The Emblem is the picture that represents your group. - Make sure it follows the Roblox rules.
Don't forget the settings on the side there. You may want to change them.
Don't worry, you can change everything (except for the name) later.
Once you've filled in all the information and checked for typos, hit Purchase, then your group will be set up! From there you can see your Group on the Groups page.
Ad blocker interference detected!
Wikia is a free-to-use site that makes money from advertising. We have a modified experience for viewers using ad blockers

Wikia is not accessible if you've made further modifications. Remove the custom ad blocker rule(s) and the page will load as expected.