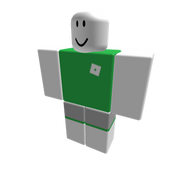 The default clothing is a group of pants items unavailable and unviewable in the catalog that are applied to an avatar when no pants are selected. There is a rumor that this was made to repel online daters from creating avatars that would be rendered inappropriate. Default clothing was added in an update on June 16, 2017. The default clothing looks like a colored shirt and the small ROBLOX logo located in the top-left corner of the shirt and a pair of shorts.
Criticism
Due to the inability to change the color of the shirt, people have been making forum threads dedicated to asking for support to remove the default avatar. People have also tried to bypass this via "invisible" shirts and pants.
Bypassing the filter
Players can bypass the default clothing trigger by wearing pants, as pants cover both the avatar's legs and the torso. Changing a body part to a different color can often bypass triggering default clothing. Clothing that has been deleted by the moderators automatically renders a "naked" avatar, even though the avatar is wearing pants. Transparent clothing is also considered to be clothing under the filter, even if the avatar is wearing entirely transparent pants.