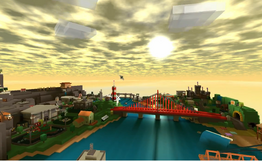 Dynamic lighting is a rendering feature in ROBLOX that provides shadow effects, ambient lighting, and customizable light sources which can be added to places where it is enabled. Dynamic lighting can be activated by activating the "GlobalShadows" property of the

Lighting service inside a place. Since it's a scripting accessible property, you are able to enable/disable dynamic lighting whenever the player wants. Unlike in most games, ROBLOX's dynamic shadow and lighting engine utilizes the CPU of the player's computer, rather than the GPU. It does this by creating lighting as part of a voxel system.
Dynamic lighting was first mentioned in a blog post on February 7, 2013. It was released into the Test1 game environment on April 19, 2013 for player testing, and was finally officially released into the main platform on May 9, 2013. A video showcasing dynamic lighting was released by Shedletsky prior to the launch of the new system.[1] This video was later used by ROBLOX on the announcement blog post.
On September 30, dynamic brick shadows were implemented.
On May 29, 2014, dynamic character shadows were released.
How to Enable Dynamic Lighting/Global Shadows
This is an unconfirmed tutorial.
In ROBLOX Studio 2013, flip down the edit menu at the top. Then, go to View and press Properties. Press Lighting on the right. Enable Global Shadows, and optionally turn the color black. Insert any physical block. Then, press Insert, Insert Basic Objects. Spawn in either PointLight or SpotLight. And then again, go to the properties. The maximum value is 60.
External Links
↑ ROBLOX Dynamic Light and Shadows - Shedletsky
YouTube. Retrieved June 23, 2014.
​Gallery
Event
During the introduction of Dynamic Lighting, an event was made. During this event, the Games page had games with Dynamic Lighting featured on the sides of the page. One of the games featured was Bloxburg with LIGHTING. This event was poorly documented, and was available on the Internet Archive for a limited amount of time for unknown reasons.
Trivia
This section is a trivia section. Please relocate any relevant information into other sections of the article.
Some developers hate Dynamic Lighting due to the fact that they have to add Light objects to every part. 
Dynamic Lighting is praised by a small fraction of the ROBLOX Community.