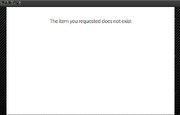 The Error Page is a page that appears when an error has occurred, like a deleted page, user or unexisting page on the website.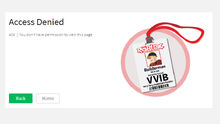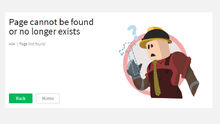 Design
The Old Design showed a Noob "walking" a TNT-Like brick, which existed from 2007-2012.
The next one shows a white isosceles triangle with yellow outer lines with an exclamation point inside it. Existed from 2012-early 2014

The new one is Builderman falling to a hole which is currently being used.
Ad blocker interference detected!
Wikia is a free-to-use site that makes money from advertising. We have a modified experience for viewers using ad blockers

Wikia is not accessible if you've made further modifications. Remove the custom ad blocker rule(s) and the page will load as expected.