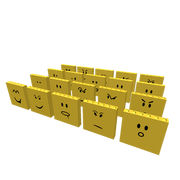 A face changer is a common model in a game, usually using user-made faces, or more commonly, faces made by ROBLOX. They usually appear in VIP rooms, the winners area at the end of obbies, and roleplaying games.
Usage
To use a face changer, walk to it and the face on the face board will replace your original face. Common faces used are Mr. Chuckles, Finn McCool, Shiny Teeth, and Epic Face.
Criticism
People who use face changers are usually criticized for their use of free models. Users who use face changers in-game are usually perceived as "online daters", and users are criticized for using a face changer in a video or in-game and claiming it was their original face (that they own).
Trivia
This section is a trivia section. Please relocate any relevant information into other sections of the article.
The first known face changer was made by Gamehero on August 6, 2007.[1]
Ad blocker interference detected!
Wikia is a free-to-use site that makes money from advertising. We have a modified experience for viewers using ad blockers

Wikia is not accessible if you've made further modifications. Remove the custom ad blocker rule(s) and the page will load as expected.