ForceField
Talk

0
2,757pages on
this wiki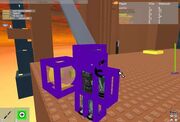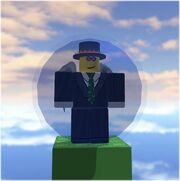 A forcefield (also known as "ff") is an object creatable in a game, and by default is created when you spawn. It creates a blue orb around your character, which protects your character from being killed by explosions or from taking damage from most weapons. However, there are some things that remove the forcefield and kill you. When you put a SpawnLocation in your place, a forcefield will automatically be set to appear for ten seconds around newly spawned players. However, you can edit the time to be longer or shorter through the spawn's "Duration" property. You can also just turn the forcefield option off (a good option if you want to make a spawnkill land place). The forcefield was added in an update on December 20th 2007. At first, forcefields were glowing outlines, that looked purplish. Later, forcefields were updated in 2011 to look like a glowing sparkling ball around your ROBLOXian. They also protect cars and anything that is a vehicle.
Scripting ForceFields
Edit
ForceFields only have an an effect when put inside a Model with a part named Head, and another one named Torso. This can be done with the following code in a script:

Instance.new("ForceField",game.Players["player name"].Character)

It is important to note what ForceFields do and do not do. Forcefields do protect against almost all explosions. However, they will not work if use to defend from a badly scripted weapon. Adding a forcefield to a player's character prevents Humanoid:takeDamage(n) from having any effect. However, it does not prevent code such as Humanoid.Health = 0 from killing the player.
ForceFields have no special properties.
There is scripts, as well as gear that to go through forcefields.