Frost Clan, or FC, is a war group that is currently owned by jjjakey, whom is the recent successor of Dignatio, following his retirement on the evening of October 22, 2013. Created in 2009, Frost Clan is named after the ROBLOX hat Frost Clan Hillfighter. The motto of the group is the same motto in the hat's description, Fists of Frost, Hearts of Ice, and the group's logo is the same symbol and color scheme that is on the Frost Clan Hillfighter hat.
History
Frost Clan was created in 2009 by Underworldruler. The next two leaders were Apocalyptical and ThePhantomHourGlass, who is now known as Meowmixxed/ThaPhantonHourGlass. Ownership of Frost Clan was eventually transferred to Pizzaman1000/Dignatio. On October 22 of 2013, Dignatio retired, handing the leadership role to jjjakey.
Frost Clan achieved superclan status in March 2010, with the rising popularity of the Frost Clan Headquarters. Several other groups then declared war on Frost Clan (as seen below).
Frost Clan also participated in a major war during this era against the First Encounter Assault Recon, allying with The Roblox Assault Team, and the United Clan of Roblox, though no victory was announced for either side.
X-101st was Frost Clan's first major participation in any war, with assaults coming in on both sides. Frost Clan received allied help from the Canadian Army in this war. The X-101st leader, Lordnathan, was later banned in September of 2010, and Frost Clan did not claim victory as a result.
Though not well known, Frost Clan and a member's clan, newly founded Urban Assault Forces by Infinitive, engaged in a friendly war to boost activity for both sides. Though Frost Clan amassed more wins than UAF, the war was friendly, and there was no victor. UAF and Frost Clan then allied after the war, creating the longest standing alliance in clan history.
Imperial Legionnaires, a remake of the X-101st Legion, was created after the fall of the X-101st. Frost Clan emerged victorious against IL, with a score of 41-2.
BTMpire was another group that was defeated by Frost Clan in the early parts of Dignatio's reign, with Frost Clan and their allies amassing hundreds of wins against the BTMpire. While the BTMpire did get large win totals against other clans, they did not bode well against Frost Clan, resulting in their defeat.
Frost Clan declared war on The Robloxian Army in 2011, defeating the group after a long series of wars. Frost Clan amassed an incredible amount of wins during these wars, nearing 200 in total, while The Robloxian Army reached a total rounded up to 30. Frost Clan used their HQ in this war like other wars, however, they opened up Fort Wolf for the war, and used it in addition, as they began their transition from their beloved HQ.
In 2012, Warmystro2 held an invasion that targeted Frost Clan. The invasion made Frost Clan decide to go to war with The Vaktovian Empire. The war started in November 2011, and was temporarily halted by Vaktus in February 2012, with Frost Clan leading by double the Vaktovian score, at 34-17. Both the Vaktovian Empire and Frost Clan, along with other groups of an alliance known as the United Powers, went to war with a superclan known as John's Cobras. After John's Cobras surrendered to Frost Clan and Vaktovia (score of 80-0 for Frost Clan), the war with The Vaktovian Empire continued. After four consecutive wins against the Vaktovian Empire, Vaktus requested a second cease fire in order to fix his VAC program, and the war was halted at 7-5 VAK lead.
In November 2012, Frost Clan defeated a controversial superclan known as Team Domino with a dominating streak of continuous raid victories while losing none at all, thus ensuring Frost Clan's victory over Team Domino. The victory was later confirmed when the second in command of the group Wierdo1337's surrendered to Frost Clan. The war lasted a week, with a score of 10-0, in FC's favor.
In February 2013, Frost Clan went to war against the X-101st Legion, owned by OcularVision aka LordVade. The war lasted somewhere between three to four weeks, ending in a similar manner to the TD war, with an HR surrendering against a win count of 27-0 FC.
In July, 2013, Frost Clan attempted to continue their war with The Vaktovian Empire. After declaring war, they were blacklisted from the war, and they fought the Alversian Peoples' Navy, a former member of the BTMpire, once again, resulting in a 8-0 Frost Clan draw.
In October of 2013, Dignatio, Frost Clan's longest running King retired. Dignatio then appointed new Council Members and made veteran member 3t3t9t a Frost Lord, making jjjakey the new Frost King.
In his first war as Frost King, jjjakey and Frost Clan declared war against Valor Legion and Lortex Security, resulting in a 20-0 Frost Clan victory. Mercenaries were used in the war, a group called Eclipse PMC aiding Valor Legion, though even those sword elites could not stop Frost Clan's inevitable domination.
On March 30th of 2014, Black Wolf Empire got involved in a short war with UCR , UAF and Frost Clan. After mass raiding two servers of FC Fort Wolf II, BWE could not beat Frost Clan. Frost Clan and UAF agreed to declare war on BWE and Electro Legion. The result was a 40-0 victory for the frosty side.
As Sleet Clan continued irritating Frost Clan's ally in July of 2014, The Grand Imperium, TGI leader rodgerdodger requested Frost Clan's assistance in defeating the fellow wintry giant. Frost Clan agreed, and as a result, Frost Clan defeated Sleet Clan and their ally, Caesar's Legion, in convincing fashion, with a 17-5 victory, and no losses at the Frost Clan base. Besides the Vaktovian War, this was the second largest C&G-viewed victory in Frost Clan's history, as they not only proved that they were strong, but they proved they were arguably the best, as they defeated innumerable Clans and Guilds mercenaries, some of which joined Frost Clan afterwards from their respect. It came out some weeks after the war that many of Sleet Clan's top fighters were paid off by their leader.
Frost Clan participated in the 2014 Clan Battle in August. Although their members participated in numerous games, the clan's focus was on Medieval Melee. However, this battle was anything but clean; Frost Clan's main focus was surpassing the popular trading group Trade., which took the lead for quite awhile. There were accusations of cheating from both sides, with proof of Trade. cheating, though none of Frost Clan. Nonetheless, Frost Clan emerged intimidatingly victorious, and their win resulted in yet another hat for Frost Clan.
In late November, 2014, powerclan Soticule Forces, led by paul321321, declared war against Frost Clan. Frost Clan's third most dominating gun-using war saw Frost Clan boast team kill-death ratios of 130-10. After a few days of war, on December 4, 2015, Soticule Forces surrendered to Frost Clan, by war score of 9-0. It came out months later that Soticule Forces used an aimbot at their fort.
In January of 2015, Frost Clan declared war on FEAR, and after a multitude of battle wins, declared a victory, with a war score of 15-0.
In April, 2015, Frost Clan declared war on The Roblox Assault Team, RAT, and after achieving a war score of 10-0, RAT refused to fight, and Frost Clan gave up on the war.
On August 6, 2015, VOID, a powerclan led by ISOLAYTOR, declared an endurance war on Frost Clan. Three days passed, the war was declared a tie. The war was later confirmed by Frost Clan to be set up to help VOID prepare for VAK, with no victor expected. Frost Clan's High Ranks reportedly threw the defenses in order to boost the VOID war score.
Sometime in September, 2015, Electro Legion and FC went to war again. EL surrendered to FC, with a war score of 13-1, on FC's favor.
Then, in October, 2015, Vortex Security and Frost Clan engaged in battle. The terms stated a 20 win score to be necessary for victory. The war ended in 36 hours with Frost Clan victorious, 20-0.
Late December to Early January, heading into 2016, the infamous RAA and their ally, Fleetcom, waged war against Frost Clan. After a couple of days, Fleetcom surrendered, and as a few weeks go by, Frost Clan and RAA agreed on the victor of the war; Frost Clan, by war score of 11-0, putting them on the list of the few clans to have ever beaten RAA.
Sometime in late Spring of 2016, Lortex Security declared war on Frost Clan. The opponents of Frost Clan were quickly dispatched after a fun and fair day of raiding, with a surrender coming after Frost Clan acclimated to a 6-0 victory margin.
Near a dozen of attempted war efforts later, a clan called Nightfall Clan finally accepted the war challenge posed by Frost Clan in July of 2016, and the two sides went to war. After nearly a week of battle, Frost Clan witnessed NFC leader ezaiahs surrender at 19-0, a single victory from ending the war, Frost Clan winning.
On the morning of July 18th, 2016, Frost Clan declared war on the Arenirian Sovereignty, citing that the reason for the war was due to ASov committing the same sin RAA had in warfare. ASov were swiftly destroyed by 8 refusals to defend and a 4-0 margin of defeat.
Frost Clan's war record is a staggering 21-0-6 (Win-Loss-Draw), making it one of the most successful war clans to have existed.
Note: Not all dates are perfectly accurate. Divisions and Bases sections may contain incorrect and/or outdated information. Discretion is advised.
Divisions
All of these divisions are owned by Dignatio, thus making them official. 

Frost Clan Wolf Squad
The members of the Wolf Squad are some of the most skilled fighters within Frost Clan. The members of the Wolf Squad are usually highly respected within the main division, being handselected by high-ranking FC members and other elites.
Frost Clan Council


The Frost Clan Council serves as a high rank division for Frost Clan. Member of this division  discuss important group matters in private, as well as make big group decisions, along with the occasional off-topic discussions. In order for players to become a member of the Frost Clan Council, they must have already achieved the rank of Warlord or higher within the main division of Frost Clan. Currently, there also exists an inactive War Council (Logo shown below the Frost Clan Council Logo), whose purpose was stated as "communicating with members of enemy groups in order to ensure that the war is being fought according to the rules set in place.
Bases
Fort Wolf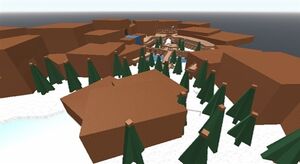 Frost Clan's main fort is Fort Wolf. There are no gates or walls blocking entrance to the base and flag at this fort. However, there is a path in the cliffs directly to the main flag. The base is located in a snowy terrain, with pine trees dotting the map. There are various caves and mountains, and several ponds and lakes . The fort is a wooden structure carved into the basin of the surrounding mountains.
An official raid requires at least five Frost Clan members and three raiders. There are two flags at Fort Wolf. The mid flag and the main flag. Capturing the mid flag allows the holder to spawn inside the fort area, much closer to the main flag. The mid flag is located at the approximate center of the fort. Capturing of the mid flag is almost instant, requiring the press of a white button of the roof of the building. The main flag is located at the far end of the fort. Raiders need to hold the main flag for thirty minutes to win.
Weapons for Frost Clan, Allies, Raiders, and Wolf Squad are all the same. Neutrals do not have any weapons at this fort. The four weapons at the fort include a slightly nerfed sword, a rifle-like gun, a barrel tool, and a bow that shoots ice to freeze enemies. Barrels are similar to time activated bombs. By using the third tool, you can pick up a barrel, drop it, and detonate it. A barrel's explosion can be described as a large scale version of a FC bow's ice effect.  There are also three barrel givers around the fort. One is located to the cliff exit near the edge of the waterfall, one is locate on the main flag's entrance edges. The last one is located close by the mid, near the cliffs and an underwater tunnel.
In late 2013, Frost Clan Fort Wolf II was released to the public.
Fort Avalanche 
In late 2011, Dignatio started working on a place called "New Fort". The purpose of the place was to serve as a new raiding base and headquarters for Frost Clan. On the week leading up to Christmas 2012, lower ranking members of the group were allowed into the fort in order to test it. On December 24, 2012, Fort Avalanche was released to the public. Fort Avalanche is located within an icy valley, with mountains dotted with pine trees defining the landscape. There is also a stream leading to an underground lake at the center of the map. Players spawn in the caves on the iceberg, close by the lighthouse if their team has captured it, or in shallow water. There is a stone lighthouse that is located on an icy island in the middle of the map. It is three stories, and also serves as a lookout tower. The roofs on each level of the lighthouse are also used to gain access to the mountains surrounding the base. The fort itself is a two story, empty wooden fortress, similar to Fort Wolf's, except for the fact that it is behind a mountain.  Inside the wooden compound is the flag and a waterfall. Behind the compound is a small town. Several smaller wooden landmarks are also located around the map, such as the ship.
Wolves' Borough
Wolves' Borough was released to the public on July 4, 2013, after several months of building, scripting, and testing. Five Frost Clan members are required to start a raid. If five Frost Clan members are not present, the timer will not tick down. Raiders need to hold the captured flag for 25 minutes in order to win.
The Borough is a large town within a snowy ravine, with buildings centralized around a river running through the area. A familiar boat from Avalanche can be seen docked in the river's harbor, in a non-destroyed state. Midpoint and Main Flags are located across the river from the side of the spawning region of the town.
The GUI and signature "ice" weapons differ greatly from those of the Fort Wolf and Fort Avalanche. The default ROBLOX chat GUI has been replaced with a custom made one, that allows team chatting between the Wolf Squad, Frost Clan, and Allies teams. The bows require purchasable ammunition for each fire, with the set rate at 5$ an arrow. You earn 5$ for each kill, and you earn money over time. Unlike previous forts, the arrows only trip opponents. Ice created from both barrels and bows are now non-solid, preventing freezing in place and means of traversing the landscape through the weapons usage. Barrels have the ability to deploy miniature barrels that are extremely similar to grenades. Each regular barrel (colored brown) contains 5 mini-barrels; while the more powerful barrels (colored white, blue, red, and black in order of power) carry more mini-barrels. The standard sword remains the same, with the ability to TKs ones teammate being activated and deactivated with the commands "sf/on" and "sf/off.".  The fort also contains a shotgun, much like the one at Avalanche with an updated model and new "bullets."My Tools
Fort Wolf II
In late 2013, Dignatio released Fort Wolf II, the second version of Fort Wolf. A minimum of five Frost Clan members and a minimum of five raiders are required for a raid to be official. If there's less than five Frost Clan members or raiders, the timer will not tick down. The Raiders need to hold the Main Flag for 20 minutes. In June 2014, Dignatio increased the Main Flag hold time to 30 minutes in order to prepare for the upcoming VAK-FC War III.
Unlike Fort Wolf, Fort Wolf II has cannons. The cannons were used to launch an individual or a barrel into a certain location. The Wolf statue is moved from the center of the fort, to the outer areas of the fort; holding its own island. More infrastructures were added to the fort. A rally place, a library, and even Frost Clan's very own The Teapot Café is found inside the fort. Two towers watch over the deep plough of Fort Wolf II. The river that borders the two sides, was made deeper and was added with terrain. 
The same GUIs and weapons were added to Fort Wolf II from Wolves Borough. More barrel colors were added including a few barrels with special abilities (e.g. rebound and mini barrel explosion).