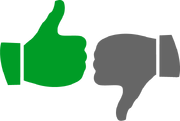 The Game Ratings feature is an update that was first introduced to ROBLOX games on June 18th, 2013.
Verified players
can rate games they have played by giving them a "thumbs up" or "thumbs down". This was made to nudge the Games page closer to ROBLOX's vision with "a Games page that's loaded with fantastic games to play and worlds to explore." This feature is mandatory and cannot be disabled by game creators. On June 22nd ROBLOX remove game ratings.
The rating system is known to be similar to YouTube's own rating system.
Moderation
Ratings are monitored by the ROBLOX Staff. In any game in particular that is massively down-voted, the staff will investigate the activity to make sure it's not malicious in nature (such as a single player creating alts to dislike a game).
Future Plans
The Game Ratings feature is planned to be integrated into the Games page (but not as a sort). Games that are overwhelmed with "thumbs down" votes would be pushed down the game page, and eventually off the games page entirely, even if it is being visited frequently. Additionally, there are plans to expand this feature to all assets on the site.
Blog Post
Ad blocker interference detected!
Wikia is a free-to-use site that makes money from advertising. We have a modified experience for viewers using ad blockers

Wikia is not accessible if you've made further modifications. Remove the custom ad blocker rule(s) and the page will load as expected.