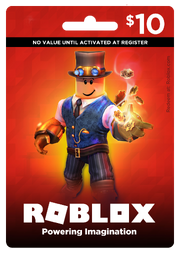 Game cards are cards used for various online video games, that can be redeemed for either in-game membership, currency, or in some cases, exclusive items that can be used in the game. On Roblox game cards can be bought in, increments of $10, $25, $40 and in some cases, $5, $50 or $10-100, in the United States, Canada, New Zealand, Australia, and in the UK.
Release
On September 26th, 2010, Roblox first released their game cards at the children's toys retailer in the United States, Toys "R" Us. Ever since the release, the places where users can buy Roblox game cards has increased. Game cards are now available in the United States, Australia, Canada, New Zealand, and the United Kingdom.
Use
On Roblox, a game card can be used to buy Builders Club membership or Robux. On the back of the game card, the user can scratch off the gray bar on the back of the card that reveals a PIN that can be typed into the game card section of the website, where such PINs can be redeemed. Game cards can also be used to obtain certain exclusive items (usually related to the time of year), depending on the amount or store; when redeemed, the items will be added to your account. The available items change every month and can be viewed in the game card section of the website.
Designs
Date
Card
Image
2010-2011
$10
2011-2013
$10
$25
2012
$40
List of Current Retailers
United States
Retailer
Date
Toys "R" Us
September 26, 2010 - 2018
7/11
October 1, 2010
Best Buy
GameStop
October 31, 2010
Walmart
May 16, 2011
CVS
Target
October 24, 2011
Walgreens
2018
Canada
Retailer
Date
7/11
Best Buy
Toys "R" Us
September 9, 2011
EB Games
London Drugs
Shopper's Drug Mart
Walmart
N/A
United Kingdom
Retailer
Date
Sainsbury's
November 13, 2011
EB Games
February 8, 2012
Currys
GAME
WHSmith
N/A
Australia
| Retailer | Date |
| --- | --- |
| EB Games | 2012 |
| BIG W | 2013 |
| Woolworths | August 2018 |
| JB-Hi-Fi | October 1, 2018 |
New Zealand
| Retailer | Date |
| --- | --- |
| EB Games | N/A |