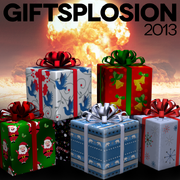 Giftsplosion 2013 is one of the four annual events in which ROBLOX staff releases multiple gifts in the form of hats, each with a specified way to earn it for free. Gifts are rewarded to those who meet the requirements of the gift within one to three days. If the user cannot earn the gift for free, then they are still able to buy it for a set price (usually in Robux) after it becomes available for purchase in the Catalog. After it goes off-sale, the gift will open and a new item will appear in the user's inventory if they own the gift. Once a gift has been awarded to those who met the requirements, there is no other way to earn it for free, as the gift would already become available for purchase at the Catalog.
More information can be found here.
Gifts
The difficulty is based on a new player who has joined ROBLOX. This is significant as some of the gifts may be limited by cost or membership. ROBLOX stated that this year's event would be easy, so receiving the gifts should not be too difficult.
| Unopened gift | Description | Requirement | Gift Price | Prize |
| --- | --- | --- | --- | --- |
| | "Santa takes style seriously. Luckily his outfit works for all occasions." | Creating at least one outfit. | 25 ROBUX | |
| | "You shall not pass without a pass." | Purchasing a gamepass by December 4th at midnight. | 100 ROBUX | |
| | "Great things often come in small packages.... like seeds!" | Owning the Little Seed when it was a little seed. | 1500 ROBUX | |
| | "A ticket to hours of entertainment is just a few clicks away." | Sell a game using the paid access feature. | 1000 ROBUX | |
| | "80% of success is showing up." | Owning any of the BLOXcon Fedoras or the Virtual BLOXcon Lanyard. | 2000 ROBUX | |
| | "117561193, 99931407, 106476791, 121133205, 129382885, 135592556, 100477541" | Owning all 7 badges in the description. | 300 ROBUX | |
| | "62592460, 132345501, 117136113, 55843753, 91323278, 122924107, 137697370" | Owning all 7 badges in the description. | 10,000 ROBUX | |
| | "Seems legit." | Owning a place with 100+ upvotes. | 200 ROBUX | |
| | "Whatever sounds good to you, sounds good to me." | Uploading 5 sounds. | 5,000 ROBUX | |
| | "It was so nice, I bought it twice!" | Owning 2+ copies of any limited item. | 375 ROBUX | |
| | "The town is indebted to you, Great Bloxxer. Bloxhilda will never bother us again! Or will she ..." | Having completed every quest in The Witching Hour. | 3100 ROBUX | |
| | "This gift was awarded to all developers who have used ROBLOX's Developer Exchange." | Completely Cash-Out using ROBLOX's Developer Exchange. | 50,000 ROBUX | |
| | "Are you sure you want to buy this gift? It seems like nothing good could come from it." | Buy it while it was onsale for 13 minutes on Friday the 13th at 13:00 PST. | 13 ROBUX | |