| | |
| --- | --- |
| | NOTE: This article lists many widespread or famous glitches on Roblox. When editing this article, do not list glitches that are specific to one game or specific to you, or exploits that have not yet been patched by Roblox. |

A glitch is a code or user error that causes a problem that can disrupt gameplay or site navigation. One of the most common, but now fixed, glitches in Roblox is a "hatplosion" or "hat explosion" which allows players to wear up to three hats. It is now allowed and it's also considered as a feature ROBLOX released in June 2010.
ROBLOX would recommend players to report a glitch or a bug to the moderators so they can fix it.
Abuse of a glitch can result in a permanent ban from ROBLOX if a player causes exploits that is not a glitch or a bug, depending on the severity of the glitch, or how much a player abused it.
Current Glitches
Invisible Torso
When some players enter a game on ROBLOX, they can find out that sometimes their character's body is invisible. If the player scrolled in and out of it, it would no longer show up to be invisible. Players can make their torso invisible using a special program but it does not show up to other players. If a shirt has been deleted, the player can wear it but it will show up with an invisible shirt.
Fly Brick (walking and flying)
The Flying Brick is a bug that is used by many builders on ROBLOX. Some players would usually put an unanchored and welded brick on their legs. They would fly while they walked. Some of the moderators have experienced this bug and cannot fix this bug. The bug is, however, patched, therefore the glitch does not work anymore
Big head
If the player wears the "ROBLOX Visor in 2007" or the "Vampire Collar", his/her head will turn big if he/she also wears another visor first.
Fly Tool Glitch
In some places that have the fly tool, some players' characters will float when they jump or walk off a brick. This can be fixed by reseting, though it may happen again soon. It usually fixes after a while. This is mostly found in places like Dragon Ball Adventures from mastrj, as the place utilizes the fly tool.
Freeze Ray Glitch
The freeze ray glitch makes the player hold a freeze ray not the way it should be held. This could happen in the player's profile picture and/or gameplay.
Login Bug
In the login section of ROBLOX, if a user types in an incorrect password, it will display the text "The username or password you have entered is incorrect." It is not possible that the username is incorrect, otherwise a message will display "let's make a new account!", just above the login section.
Captcha Login Bug
If a user enters this section of the website after too many attempts of a password or user entry, upon retyping the user information upon this page, some displayed text will glitch. If a user types in an incorrect captcha sequence code as well as an incorrect password, both will show. Upon retyping one of these correct (Say, a user types in the correct password but an incorrect captcha code it will still display "The text you have entered does not match with the text above.")
Fixed Glitches
No Delete Button
In June 2010, the delete button was removed. If anyone took something from an item, the player could not delete it. He/she could get as many items you can if you wanted to but it still won't show up the button to delete it. Players who have an item before this will show up the delete button. This has been fixed now and players who bought a hat during this issue will now show its delete button.
Hat Giveouts
A user named Nikayah created an exploit in which one of the hats, such as the Riddling Skull, was given out to over 1,000 users. ROBLOX has banned him and was unbanned with another exploit in early 2009.
"Hacker" Player Badge Exploit
The "Hacker" badge is a badge created by a player which was added to his game in 2009. This badge was spread out over 1,000 2006 users in 2010. Users 201 to 2,549 got this badge for free which only was given to 2,348 people who are all from 2005 and 2006.
Small Character Glitch
Around early '09, when the player's character is equipped a kantana or a tuba, his/herr character's avatar would be rendered much smaller than normal.
Extreme-load Glitch
This happened on January 4, 2012. As a player tried to log in, their browser would cycle between 3 different sites all with roblox.com in the name. They would never load one of them, because the site would instantly become a new website.
No Torso Glitch
This happened on December 15, 2010. This glitch allowed the player's avatar to have no torso. It didn't cause any problems with ROBLOX. His/her torso would be there if he/she joined a game. This was fixed and all players were updated back to normal on the 16th.
Gear Down Glitch
This glitch was only up for a few hours before it got patched. This glitch prevented the player's avatar to move its arm in the proper location while holding a gear.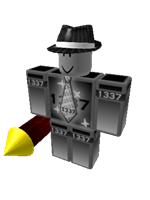 Double Gear
The double gear glitch allowed users to drop one gear, and select another gear while walking over the dropped gear, which would let them use both gear at the same time.
Screen Glitch
In several places such as d4rk886's Base Wars, some users using 13+ Chat (Type Chat) "Blinded" their's and other users in the same server by holding the TAB button on their KeyBoard for a period of time and then pressing ENTER, which causes every user inside the game server to have their screen spammed with big, enlarged white letters which obstructs most of their view. Many people who were a victim of this glitch call this a hack, despite it really being a glitch. Also, most GUI's that use text can be found glitching with this glitch.
Confirmed Glitches
Lifetime Outrageous Builders Club
This glitch was discovered on YouTube. All the player has to do is order any Outrageous Builders Club membership, select the web address he/she is on, change the 5 in the end to a 6, then finish doing what he/she must do to order. However, although the order has been placed, the credit card won't be charged and the user won't need to contact the ROBLOX HQ.