This article is about the feature. For the ROBLOX Wikia category for Groups, see Category:Groups.
Groups are one of the features on Roblox created in mid-2009. Players could create groups of many genres and have a limitless amount of members. All players on ROBLOX are allowed to join groups, however, only Builders Club members are allowed to make groups. Making a group costs 100 ROBUX. Players are given a certain limit on how many groups they are able to join based on their membership. Non-Builders Club members are permitted to join up to five groups at one time, Builders Club members are allowed to join/own up to 10 groups at one time, Turbo Builders Club members are given the privilege to own and/or be in up to 20 groups at one time and members with Outrageous Builders Club have the capacity to join or own 100 groups.
On May 28, 2015, the ability to make group games was added. Multiple players could work on a game, and the leader of the group can share the revenue with the payouts feature. Instructions are provided here.
Groups can be set public or private. If private, the player is pending until a group admin approves the player's join request. If public, the player can join the group for free.
Some groups (like the ROBLOX Admins group) only allows Builders Club users to join.
Creating a group
In order to create a group, players must first have any type of Builders Club, then go to "My Roblox" and click on the button labeled Groups. On the left of the screen, the list of groups that a player is currently in is listed, along with a button above the list titled "Create New.". Players may then type the name of their group into the given box, add infomation about it, pay 100 ROBUX and the group is created.
Group size 
On ROBLOX, The size of a group is determined by the number of members it has. These are the ten largest groups:
information may be slightly faulty, updated as of 5/24/17 (24th of May 2017)
Group Name
Member Count
Public
ROBLOX High School: Fan Club
1,888,697
yes
Project: Pokémon Community
1,311,514
yes
Boho Salon (members may be botted)
990,149
yes
Pokemon Brick Bronze Version
655,000
yes
Roblox
365,547
yes
The ROBLOX Assault Team
211,722
yes
EthanGamerTV Fans
282,233
yes
berezaa Games
211,879
yes
Vortex Security
145,841
yes
Kirito Fan Challenges!
175,752
yes
Advertising Groups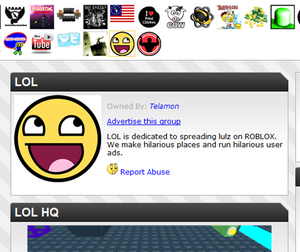 The feature that allows you to advertise your group was released on February 3, 2011. You can now make an ad that leads directly to your group.
Creators of groups can also turn on and off the option to give any rank in the group the right to advertise the group freely in the Group Admin location.
With the new Group Funds feature, group owners are now able to use the Robux credit in the group store to advertise their group.
Types: 
Several types of groups exist on ROBLOX. There are also more not listed.
War Groups 
Main article: War Groups
One of the most controversial categories of groups and the largest type of ROBLOX Groups, these groups model modern military corporations or Empires. Some examples of famous war groups are The Roblox Assault Team and the United Clan of Roblox. A majority of the super-clans, as well as most groups in existence, are made up of war groups. These groups participate in wars against one other, as well as form alliances. These groups have mandated uniforms for their members to wear, promote them to higher ranks through training sessions, and have special divisions in most cases.
War Groups existed as early as when weapon tools came out, around 2006. The first War Group using the Groups feature was likely the original X101st Legion group (gid=13) however since that was disbaned, the first War Group still alive today would be United Clan of Roblox (gid=18).
Along with the features listed above, most war groups have a game-slot dedicated as the main base or headquarters for the group. The purpose of these bases is for players to get to know each other better, as well as ward off oncoming raiders. These bases often contain capture points, offices and other buildings for the group which are contain within a walled compound, as well as raycast guns and other technologies. 
These groups are often controversial due to forcing users to live by their standards, lest risk exile. Other users find war groups 'too serious' with their fighting, due to most wars between groups begin to involve admin abuse, hacking, and unfairness to the raiding group in defending bases.
Some go to an extent where they force non-war groups to follow their standards, or they would be threatened to be 'hacked'.
Building Groups 
These groups are often united by building skills. Unlike war groups, building groups are often friendly with one another, and try to share ideas or help each other out whenever possible. These groups also educate others on how to build and script. Many users join these groups to learn the skills previously mentioned, as well as make friends. Some building groups act as a fan club of a development team's work.
Examples of well-known building groups include Innovation Inc and Pinewood Builders , the largest and 2nd largest building groups respectively.
Fan Clubs 
Fan clubs are groups which have fans for a specific fandom. Discussions within Fan club groups get controversial when a 'hater' of the fandom starts an argument.
Controversial discussions are common in fan clubs of hated users, My Little Pony fan clubs, Religion-based fan clubs, and Politics-based fan clubs.
Forum Groups 
Forum groups are common, such as those used by trolls, like the C&G Council, or ROBLOX Talk.
City Groups 
City Groups are created for roleplay Cities. Often times these are headed by a mayor and may be focused on a particular demographic such as law enforcement in the case of Moab ran by the TRC or for rail fans and train spotters in the case of Freeport depending on the creator's preferences.
Shopping/Community Place Groups 
Some groups are linked towards a specific community place where many Robloxians do social activities or shop. These include clothing, food and drink making groups. Kestrel ® is a group which is like this.
Country-Clan Groups 
Not to be confused with war groups, these are also war groups, however, they also build cities along with their bases to simulate a "virtual country". A well-known country-clan group is "[USA] United States of America", which is also the 6th largest group on ROBLOX. 
Some Country-Clan groups own group subsidiaries. These are, but not limited to: Cabinet groups (eg. Department of Defense), Airline groups, City groups, and Food/Coffee groups.
Roleplay Groups 
Roleplay groups are groups made for roleplaying in whatever theme and setting. These groups often have problems with people who do not play by their theme and settings, similarly to roleplay places. However, roleplay is generally the basis to the majority of groups on ROBLOX.
Magazine Groups 
Magazine groups make magazine tools that builders can insert in their place. These magazines have topics regarding ROBLOX events, gear and place reviews, and interviews with other players. A known magazine group is RoGo.
Trading Groups 
Tradings groups are where people  talk and trade in the commentary section of the group. Such groups might host a trade event or have personal servers dedicated to tradings. A notable trading group is Trade.
Airline Groups 
Airline groups are similar to roleplay groups. They hold flights at airport places, where passengers will board, the plane takes off and lands at another airport (or at the same one). Airline groups existed as early as 2006, airlines with flyable planes began service in 2007–2008 and the first airlines using the Groups feature were in late 2009. These groups are one of the oldest on ROBLOX. In fact, other Wikia sites dedicated to airline groups exist. 
Most of the aircraft used by airlines are powered by Crazyman32's Plane Kit and some users have contributed aircraft for public use, while some sell them at certain prices.
Airline groups are controversial with War groups due to some people of the War group community making fun of them with terrorism jokes (eg. 9/11) and airline food jokes.
There are at least 10,000 airline groups in existence, even though only a few are regularly active. Some ROBLOX users, such as well-known JuliusPGKC (and owner of Fly PH, an airline based out of the Philippines and usually flies from Toronto) post videos of flights made by various airlines on YouTube, including his own airlines.
Example of Known Airline Groups:
Lemonde Airlines
American Airlines
JetEire
flyDoha
Centair
Extrance Corporation
easyJet (shut down)
Anesi Airlines
Hayabusa Airlines
IranAir
Fly PH (heavily featured on YouTube)
Air Attica
Cruise Ship Groups 
Cruise Ship Groups are similar to Airline groups. They hold shore excursions at ports of call, and passengers who want to travel have to pass through a cruise terminal to board the ship. In some groups, the cruise ship is moving from port to port, while in other groups, the port is deleted or added to simulate arrivals and departures, respectively.
Example of Known Cruise Ship Group:
BloxCruises
Compagnie Générale Transatlantique (General Transatlantic Company)
2GO
Public Transportation Groups 
Another type of transport group are public transportation groups. These groups are usually based on their respective agencies and may require you to get trained to operate vehicles (even though fictional ones do exist). These groups may run buses, trams, subway trains or rail services, depending on the intent or base. Some groups have over 1000 members, but most of these groups are pretty small. Some groups may allow operations at any time (when a driver is in the place, etc.), while others will have set times when a place is open. Most public transport group places are usually closed or made inactive when not in use. In a few cases, some group places remain open 24 hours a day, especially if group members do not need training to operate a vehicle.
Some groups have closed since the owner no longer has an interest in maintaining the group if there is an issue in the group, or the owner has left ROBLOX. Others have closed due to takeover from other agencies or mergers. In these cases, some owners have exiled their entire group and abandoned it, while others put up notices on their group shout.
For the case of vehicles, they are left to sit and collect dust unless they are re-used in the future. Some agencies may send off vehicles with a farewell operation or special service.
Some transport groups try to "mock" other groups as well. In the past, some Tobes Transportation Authority places were copied by other players, which were used to operate their own groups, such as an uncopylocked game of their Line 101 place (as well as copied versions of popular places). Free models of Tobes Transportation Authority models are also known to exist, namely their light rail vehicles and some subway cars as well as buses, and can be found in operation on "bootleg" groups and in the library. Sometimes, other groups can be sanctioned by a group, meaning that members in a specific group cannot join or "work" for another group.
Examples of Active Public Transport Groups:
10 Transit Commission
Toronto Transit Commission
Tobes Transportation Authority
Travel Coventry
Apple Rail
New Jersey Transit (bus division)
MTA New York City Transit
Compass Travel (owner has restarted operations)
First London
Go Ahead London
Quality Line
Examples of Former/Retired Public Transport Groups:
Arriva North West
First Group PLC
Kieron Treacher Travel
TGM Group
Stagecoach London (inactive)
Sports Groups 
Sports groups hold events at large sport stadium places, where two teams will play against each other. What game they play varies. This includes Basketball, American football, Soccer, Tennis, Swimming, and other kinds of sports.
Protest Groups 
One of the most controversial types of groups. These groups are usually made by users protesting updates or certain things, like controversial users, or controversial updates. Usually, these groups get deleted by moderators since it's against the rules. (eg. Price Floor, BC-Only features)
Food/Coffee Groups 
These types of groups are aimed at roleplayers and use restaurant or coffee shop places. They come to their Food or Coffee places to have fun or relax, sometimes roleplay. Eventually, these groups turned from a subtle fad to a huge genre. Groups of this genre include Chicken Express which is the first success of chicken selling treats to ROBLOX. Most of these groups are large (over 10k members) thanks to the popularity of real life-based services for ROBLOXians.
Examples of Food/Coffee Groups:
Soro's Italian Restaurant
Myo Frozen Yogurt (might be copied)
Sizzleburger
Frappé
Family-Cafe
Snowies (Shut Down)
Pro/Anti Guests Groups 
Pro and Anti Guest Groups are Groups for protest that say whether they support Newbies or Guests, or hate them and want to eliminate them all. The largest of these groups is about 1000 members and supports Guests and Newbies.
Fashion Groups 
Similar to Magazine groups. They build runways and have fashion shows. They may also have a magazine based on style and beauty. They are quite popular and are hated by war groups mainly. If they use the forums to post their guides and leave the thread unlocked, forumers will often make fun of them.
Game Leaderboard Groups
These types of groups are often groups that operate on specific games and often they are on the leaderboard. Groups like these can make trainings on private servers,tournaments and can also have a channel to talk between members or give tips for the game they mainly play on.
Examples of Game Leaderboard Groups:
Combo Kings(Elemental Battlegrounds)
Insanity (Knife Ability Test)
Zombie Rush Fighters (Zombie Rush)
Phantom Rangers (Phantom Forces)
Features: 
There are many features in the group system on ROBLOX. You can create a variety of ranks (maximum of 18 ranks allowed in a group), make a member leave your group (exile), add clothes, models, meshes and decals to your group store, do messages for all members to hear (shouts), have a group chat, being able to add allies, and you can control the power a specific rank is given. You can also oversee every action in your group in the Audit Log. For 500 ROBUX, you could also create a clan in a group for your group to earn points from games that give points.
Another option when setting up groups is to require entry approval. A group admin has to approve the player in order for him/her to enter the group. On the applicant's screen, this will show as "join pending". However, most groups do not have this set up to welcome new members, as once an applicant clicks "join" he or she will automatically be in the group. The applicant will enter the lowest rank automatically and is welcome to interact with the group.
(Take note the true meaning of clan refers to a team in a multiplayer game)
Advertising groups
This feature that allows you to advertise your group was released on February 3, 2011. You can now make an ad that leads directly to your group.
Creators of groups can also turn on and off the option to give any rank in the group the right to advertise the group freely in the Group Admin location. With the new Group Funds feature, group owners are now able to use the ROBUX credit in the group store to advertise their group.
Criticism
Many people hate groups because of group admins disrespecting others, especially in cafe/restaurant and service groups. Admins have been known to exile and demote people for unfair reasons such as saying "hello". Another problem are group names locked once created- you cannot rename your group. According to users, it can be a problem if your group name is tagged (censored) or a dispute arises between two groups.