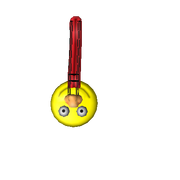 A
guitar
is an object used in ROBLOX players use just like a real-life guitar. Black notes float whenever players play.
List of guitars
Mariachi:
300
Ra'k:
400
Red Strattobloxxer:
500
Gridiron:
500
Ninja:
500
Jungle:
500
Spooky:
1,000
Electric Blue:
2,000
Rock It:
2,001
4-String Roblocaster Premiere: Limited, was originally
5,000.
Face Melting:
325
Light Face Melting: LimitedU, was originally
300.
Shamrockin': Not available.
ROBLOX World Tour Lightning: Limited, no longer available.
Famous Bloxstar: Not available.
Cool Punk Kid: Not available.
Rockin' Pink:
500
Red Rock Star:
500
United States of Rock: Not available.
Smashing:
600
Cocoa: No longer available, was originally free during the Post, Create and Play event.
Rotten Rocky's: Not available.
Rock Thunder:
500
Rockin' Axe: Not available.
Metal Guitar of Awesomeness: Not available.
Bugs
If a player plays Ro-Fortress 2, there is a glitch if he/she brings the Gridiron Guitar: if he/she strums notes they will strangly be glitched as they float down instead of up. This only works in if he/she is Heavy, Medic or Pyro. Sometimes, it will not work.
Ad blocker interference detected!
Wikia is a free-to-use site that makes money from advertising. We have a modified experience for viewers using ad blockers

Wikia is not accessible if you've made further modifications. Remove the custom ad blocker rule(s) and the page will load as expected.