Hallow's Eve 2017
is a sponsored event that began on October 18, 2017 and ended on October 31, 2017. This event is sponsored by
Nerf
. The event includes a game that was made for this event, called 
A Tale of Lost Souls
. It was made by Swift Dev
.
Description
Beware, the night of fright is almost here! Roblox is counting down the days 'til the spookiest time of the year with a bone-chilling seasonal event, sponsored by the Nerf brand! Grab your Nerf blaster and join your friends, because this is one frightful adventure you won't want to embark on by yourself. Complete the missions and play the ALL-NEW Roblox game, "Hallow's Eve: A Tale of Lost Souls," to win exclusive virtual prizes from now until October 31!
Games
Videos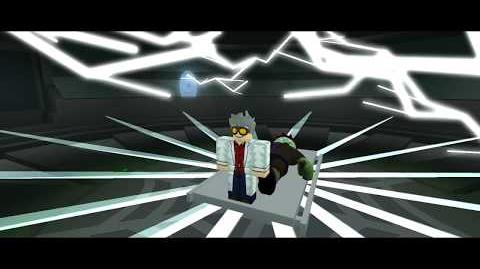 Prizes
Grand Prize
Catalog Items
Trivia
This section is a trivia section. Please relocate any relevant information into other sections of the article.
In A Tale of Lost Souls, there is a dabbing skeleton in the maze.
The maze also has eggs from Egg Hunt 2017. Some include EGG9000, ROBLOX Egg, Sand Shark Egg, Pegguin, and more.

DieSoft and Ravenshield are additionally depicted in the maze in a cell, with the EBR Egg.

There are zombie forms of the Heroes of Robloxia team in the maze map in A Tale of Lost Souls.
The maze also features Swift Dev developers, who you can talk to. One developer even asks you to leave feedback about the game.
The Sleepy Hollow map in A Tale of Lost Souls refers to the American Revolution.
This is the third time Blox Hunt has been sponsored for an event and the second time Azure Mines has gotten sponsored for an event.
This is the second year in a row that Blox Hunt has been featured for Bloxtober.
This is also the fifth year in a row that Bloxtober had a custom game built.
This is the second time this year that both Azure Mines and Blox Hunt have been in an event.
This is the third year in a row that a Halloween event has been sponsored by Nerf.
During February 2018, you could've still been able to get the Skeletal Shoulder Pads in Azure Mines and the NERF Zombie Strike Dreadbolt in Hallow's Eve 2017: A Tale of Lost Souls since the developers haven't shut down the original existing servers from the event.

However a few months after a lot of users started discovering this glitch, Bereza later patched the glitch in Azure Mines.
Gallery