Hats
Talk

0
2,757pages on
this wiki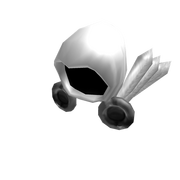 Hats are objects to put on
your
head. Some hats, like the
Teakettle
go over top of your head. Most can be bought with
ROBUX
or
Tickets
. Hats can also be won in
Contests
or obtained from
Gift Hats
, and they are fun to collect. Mostly, ROBLOX would make a hat on a random day, or on a holiday, which is notified as "New" on the top right corner of the hat's picture. Hats were made on ROBLOX in 2007.
Trivia
You could have only wear one hat at a time on until 2010,  when ROBLOX implemented a system that allowed you to wear upwards of three hats. Prior to this feature, the only way a user could wear more than one hat was by glitching.
Hats make your robloxian more heavy, so the rocket boots fly slower and you jump lower.

A player with at least 3 Hats on.

Added by

BetterSkatez
Criticism
Hats on ROBLOX are known to be criticized greatly. Most users consider them to be overpriced, a lot costing over 500 Robux, and become to the point where only BC members can afford them. There are other hats that cost a few tix such as the shaggy, but these are of the minority. There is usually a bunch of spam in the comments of hats, angering most users as they try to look for a comment pertaining to the hat.
All hats are made by the account ROBLOX which all admins share. Regular ROBLOX users, including BC members cannot make hats. However, admins like Brighteyes has the ability to make Hats for testing purposes or for other kinds of situations.