The
Hats for Haiti
program started on January 15th, 2010 by the
ROBLOX Corporation
to help relief efforts in Haiti to help ease the damages caused by the
2010 7.0 Magnitude Haiti Earthquake
by donating money for every
Blue Hat for Haiti
(worth $.10
[1]
USD
) and
Red Hat for Haiti
(worth $.65
[2]
USD) to the
American Red Cross
. The program ended on January 21st, 2010 with 16,000
[3]
players donating to the cause. The program was successful and helped raise $5479.00
[4]
USD for the American Red Cross Haiti Relief and Development Fund
[5]
.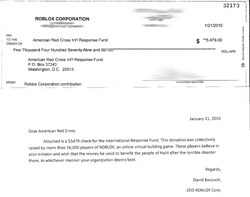 Attatched Letter to The American Red Cross
"Dear American Red Cross:
Attached is a $5479 check for the International Response Fund. This donation was collectively raised by more than 16,000 players of ROBLOX, an online virtual building game. These players believe in your mission and wish that the money be used to benefit the people of Haiti after the terrible disaster there, in whichever manner your organization deems best.
Regards,
David Baszucki,
CEO ROBLOX Corp."
Related Pages
References