This article is an archive for the history of ROBLOX prior to 2009.
2003 or earlier
January 20th, 1963: David Baszucki is born.
December 16th, 1967: Erik Cassel is born.
c. 1989: Interactive Physics, a program written by David Baszucki and Erik Cassel for educational purposes is released.[1]
c. 1989/1990: David Baszucki creates a 2D Physics Simulator that underwent the name "Interactive Physics", years later after selling millions of copies, and seeing the games others have made by simply goofing around with his program, Baszucki had imagined the first ideas of ROBLOX.
Warning: From here, this is all pure speculation. All of this below until 2004 has been debated.
c. early to mid-1990s: ROBLOX was thought up of as a game. However, since there was a lack of technology to support a 3-D multiplayer game on the Internet at that time, it was yet not made.[citation needed]

August 31st, 1993: Luke Weber (Stickmasterluke) is born.
February 25th, 1995: Jackson Fowler (NerfModder) is born.
c. 1996: Work on ROBLOX officially begins.
c. 1997: ROBLOX is prototyped, under the name "DynaBlocks".
c. 1998: An early "test" texture is made. It can still be found by searching through textures on the ROBLOX website.
c. 1999: The first official ROBLOX meeting takes place.[2]
c. late 2002/early 2003: David Baszucki, and his team eventually decide to go with the name GoBlocks.[citation needed]

c. December 12th, 2003: Jim Stevens of the ROBLOX Corporation registers a site called "goblox.com" which was going to be the site name, as they were registering with "godaddy.com". The early goblox name is also thought to be a partial inspiration to why the admins pulled the "Gooblox" prank in 2007. He also registers the "DynaBlocks" site.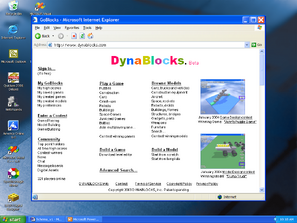 2004
January 30th: The ROBLOX site is registered by Robert Underwood of the ROBLOX Corporation at 8:43 a.m.
June 30th: ROBLOX's "first" user called Admin joins ROBLOX. He was later terminated and was moved from ID 1 to ID 18, most likely to see if the bans worked or not (but is still unknown why he was terminated).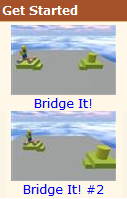 June 30th: The qa account is created.
July 1st: david.baszucki makes his account.
July 2nd: erik.cassel creates his ROBLOX account.
November 5th: david.baszucki makes the "child on skateboard" model. Also, 1,318 models are made.
Unknown date: Some screenshots are taken from ROBLOX's old site.
Unknown date: The very first ROBLOX logo is made.
Unknown date: The "WASD" controller image is created, it can be found on some 2006 trailers, but the keys are different.
2005
February 13th: erik2 joins ROBLOX.
February 23rd: Cuyler joins ROBLOX.
March 11–18: U.S. ROBLOX Patents are made.
May 22nd: ROBLOX (user) joins ROBLOX. The ID of user ROBLOX is 1. The ID was supposed to be for the user Admin.
June 6th: The "Steer the Spheres" contest begins.
June 24th: ROBLOX is re-released to the public. Unlike ROBLOX's games, they had minigames, which you can earn points from.
June 25th: ROBLOX's first official account, John Doe, is created. Also, horsey joins ROBLOX.
June 25th or 26th: ROBLOX's second official account is created. The username was Jane Doe.
Unknown date: Around 1,000–2,000 games are made on the site.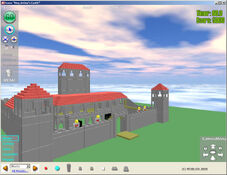 Unknown date around 2005: The first starter place is made but later on is scrapped.

2006
April 6th: ROBLOX is open to everyone.
June 21st: Telamon (now known as Shedletsky) joins ROBLOX.
September 28th: Games go multiplayer, and friends and private messaging are added.
October 25th: Search features for Places, People, and Models are added.
November 6th: You can now choose if your place is "Friends Only" or "Public".
November 11th: ROBLOX hits 1000 members at this day.
December 2006
December 1st: Crossroads is released.
December 8th: The ROBLOX Blog is created. The first posts start with a line from the Chronicles of ROBLOX.
December 9th: ROBLOX reaches 10,000 users.
December 21st: Santa's Winter Stronghold is revealed.
December 22nd: ROBLOX Badges first appear, this is not to be confused with "place badges".

Unknown date in 2006 or later
The testing of Tool meshes begins.
2007
January 2007
January 8th: 44 ROBLOXians have the Bloxxer Badge.
January 9th: On this day, many things are revealed. It includes the Administrator Badge, and Private Message history and notifications. But the most famous update was the animations that made ROBLOXians look like they were walking.
January 12th: You could now color your body to different colors, and wear T-shirts.
January 17th: The Homestead Furniture Making Contest starts, making it the first contest.
January 20th: The first and original Happy Home in Robloxia is created.
January 26th: Teams are tested, but not released.
January 31st: The Report Abuse feature is added.
[Unknown date/month]: The slanted bold text is changed to Comic Sans.
February 2007
February 5th: The official ROBLOX Wikia is created.
February 16th: The Update Bomb happens. It released Tools and Teams, made the website faster, and fixed bugs.
February 17th: The Copylock feature is added.
February 24th: Fleskhjerta joins ROBLOX and later on, he becomes famous.
March 2007
March 8th: 7 ideas for customization were thought of: hair, body parts, hats and helmets, gestures, faces, shirts, and backpacks.
March 27th: More updates happen. Supersafe Chat, Image Mods, custom skyboxes, and a new profile page are released.
Unknown date in March: ROBLOX allowed all players to change how their avatar looks.

Before this happened, players had to contribute to the community in order to be able to change their avatar.
April 2007
April 1st: An April Fools joke happens, when ROBLOX claimed to have been bought out by Google and was going to be turned into Gooblox. Later, Telamon bought gooblox.com, which redirects to ROBLOX.
April 12th: Builders Club, swords, paintball guns, and new skyboxes appear.
May 2007
May 1st: Spawns are added, bugs are fixed, a max Player cap is added to places, an early beta of servers is made, and places now have their own pages.
May 3rd: Hair is tested, but fails.
May 14th: ROBUX is added, replacing "ROBLOX Points" as the previous currency.
May 21st: The wealthiest ROBLOXian (with ROBUX) is miked, with

3,246

.
May 23rd: Hats are shown in a sneak peek.
June 2007
June 2nd to 13th: The Domino Contest is held. The most famous winner of the contest was Fleskhjerta, by a YouTube video.
June 13th: The Domino Contests ends. Also, wookong joins the ROBLOX team and FFJosh, MrDoomBringer, Gamer3D, Cruss Kilderstohe and miked help the team.
June 14th: ROBLOX hits 30,000 members, and Bspurrell suggests the Veteran Badge, which was made on that day.
June 18th: ROBLOX now has 410,687 ROBUX in circulation.
June 29th: On this day, onward, there are IP bans, and you can now sell shirts, play CTF, use RocketPropulsion objects, and experience fewer bugs.
July 2007
July 23rd: ROBLOX hits 40,000 users.

Interesting fact: If ROBLOXia were a real country, it would rank 207th in population out of 226 countries that appear in the CIA World Factbook (including ROBLOXia), not bad for an online game. Once it had a million players, it would be ranked 157 out of the 226 countries. And when it had 10 million, it would be ranked 82 out of 226. So far, it has over 17,000,000 users, which would make ROBLOX 60 or 59 out of 226. When it had 30,000,000 users, ROBLOXia would rank at 30, 35 or 25 out of 226. By now, ROBLOXia has over 200,000,000 users, making it rank as the 5th most populous country, just surpassing Brazil.
August 2007
August 2nd: Tickets are added.
August 16th: Builders Club is released for everyone.
August 19th: ROBLOX hits 50,000 members.
September 2007
September 13th: Mrs. X interviews builderman. It is learned from the Blog Entry that he was 44 that day, went to Stanford, and has 3 kids.
October 2007
October 9th: MacgeekPro and EXO tour ROBLOX Headquarters, and give mods some ideas which would take 49 weeks to do. See The Next 25 Weeks Blog Post.
October 30th: Bevels, a search bar for the catalog, and comments are released.
November 2007
November 3rd: The first ROBLOX Review is published.
November 5th: The ROBLOX Wiki on wikia.com (the one you are reading a page on right now) was made.
November 13th: A cave caves in, and Wookong almost dies.
November 14th: HolyMac, Jacobxxduel, Rombom, Sirloin and Koopa join the ROBLOX team. Also, ROBLOX gets better graphics.
November 17th: ROBLOX T-shirts (and goodies) are for sale.
November 20th: ROBLOX hits 100,000 members.
December 2007
December 3rd: ROBLOX removes arm collision.
All of December: Several winter wonderland parades happen across this month.
December 31st: The last user of 2007 (snake1415) joins ROBLOX.
Unknown date in 2007
Forcefields are now possible on ROBLOX.
2008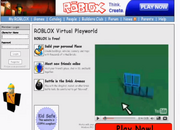 January 2008
All January: builderman place design contest takes place.
January 11th: Anaminus and Gamer3D join the team.
January 16th: Image Modding is released.
February 2008
February 8th: Many bugs are fixed.
February 24th: ROBLOX now uses PayPal to buy Builders Club.
The last ROBLOX Review is published.

March 2008
All March: The Egg Hunt 2008 takes place.
March 6th: Password recovery is added, and undo works more properly.
April 2008
April 2nd: A massive update happens. The updates are:

Places and Models now appear in your "My Stuff" page and in the Catalog
Comments on places
Optional email address verification
Physics engine improvements
Less crashes
April 9th: The Spring Block Party happens.
April 24th: A big update happens. The updates are:
Unknown date: A second testing texture is made.
May 2008
August 2008
September 2008
September 5th: ROBLOX hits a million users. The 1,000,000th user is named "2COOL4U".
October 2008
November 2008
November 21st: The RoblEX trading system and advertisements are added.
December 2008
December 18th: Heads are added.
December 22nd–29th: Miked's Ultimate Paintball gets 1,000,000 place visits, marking it the first place to reach one million place visits.
References
Ad blocker interference detected!
Wikia is a free-to-use site that makes money from advertising. We have a modified experience for viewers using ad blockers

Wikia is not accessible if you've made further modifications. Remove the custom ad blocker rule(s) and the page will load as expected.