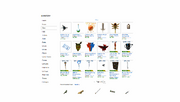 Inventory
(previously known as
Stuff
when changing the name in 2012) is a feature that allows a player to keep their stuff when buying something from the
catalog
. The player can hold up as many items as the player wanted.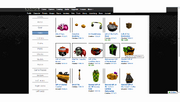 The inventory contains:
An inventory keeps your stuff secured, which nobody but the player can modify the inventory.
Sorting through the pages and pages
If you've been around for half the time that I've been on Roblox, then you probably have a giant pile of stuff like I do. Digging through this pile is actually pretty simple.
To look through a specific category of stuff, all you have to do is click on the type on the sidebar on the left.
Pages
If you have more than 24 of something you can browse more items by viewing the next page. Right above the Recommendations box is a page marker. Press Next to see more items
Creating Items
T-Shirts and Decals can be made by free users, Shirts and Pants can be created by BC users. If you want to make one of these items click the 'Create' button when you have the category selected.
Recommendations
Roblox will show you items that it thinks you might like to see or use, such as hats or decals. This gives you an idea of what other things are out there. Take a look, there could be something cool.
Ad blocker interference detected!
Wikia is a free-to-use site that makes money from advertising. We have a modified experience for viewers using ad blockers

Wikia is not accessible if you've made further modifications. Remove the custom ad blocker rule(s) and the page will load as expected.