LOL is a group created by Shedletsky (previously known as Telamon) which is a group "dedicated to spreading lulz on ROBLOX", making people laugh and doing funny things. This group is also the largest non-military group on ROBLOX, and the sixth largest group with over 88,000 members.
This group has an ID number of 2.
Description
LOL is dedicated to spreading lulz on ROBLOX. We make hilarious places and run hilarious user ads.
Trivia
This section is a trivia section. Please relocate any relevant information into other sections of the article.
This group is the fifth official group created on ROBLOX.
Allies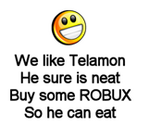 The only ally of this group is the Telamon Fan Club!!!!!!!!!!!.
Ad blocker interference detected!
Wikia is a free-to-use site that makes money from advertising. We have a modified experience for viewers using ad blockers

Wikia is not accessible if you've made further modifications. Remove the custom ad blocker rule(s) and the page will load as expected.