Lava jumps
are probably the most popular obstacle in an
obby
. The obstacle is a number of lava blocks that are wide from wall to wall. Touching the lava is deadly for your character, so it must be jumped over. Some make you die immediately after you touch it, and some take a while to make you die, which is useful.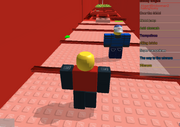 Another obstacle made out of lava is checkerboards. These lava blocks arranged in a checkerboard pattern are usually too long to easily jump over in one direction, so they should be diagonally jumped over.
There are also Spinning Lava Jumps, which spin and are much more difficult to avoid.
Ad blocker interference detected!
Wikia is a free-to-use site that makes money from advertising. We have a modified experience for viewers using ad blockers

Wikia is not accessible if you've made further modifications. Remove the custom ad blocker rule(s) and the page will load as expected.