A ROBLOX Moderator is a member who moderates, or patrols the website to ensure assets and other player-generated content, such as forum posts, thumbnails, and any other graphical content remain safe and appropriate for all players. Moderators have the ability to delete content that violates the ROBLOX Terms of Service, specific to the moderator's position.
When you send in a report, the moderator team is the group of people who read them and decide what to do with it. Most of the time, a report is valid, and an appropriate response will be given to the account that broke a rule.
If it seems that the reported account or item didn't do anything wrong, the report is then closed without an action. Most reports go by a real person to make sure they are correct.
Moderators are also in charge of screening the images that come onto the website. Whenever you create a shirt or anything else that lets you upload an image, that image is shown to a moderator to make sure it is acceptable for ROBLOX. If it breaks any rules then it will be removed immediately. If it was a really bad image, the account that uploaded it will receive a punishment for uploading it.
Super Moderators

Super Moderators are moderators employed by ROBLOX and are part of the
ROBLOX Staff
. This badge has been retired.
Image Moderators

Image moderators make sure any and all uploaded material, such as clothing, advertisements and gear, are safe and child-friendly. Any image will be stated as "pending", which signifies it is to be approved by the Image Moderators before being made public. They can delete any user-uploaded image. This badge, and position was formerly awarded to players that displayed maturity and responsibility until the retirement of player moderators. This badge has been retired.
Forum Moderators

Forum Moderators patrol the forums and make sure every topic is kid-friendly and safe. They manage reports for the forum and can punish those who break the rules, their punishments dependent on severity, ranging from a warning to a ban. Similar actions can be taken out in regard to threads or messages, common actions being a direct message, to locking, to a deletion. This badge, and its position was formerly awarded to players that displayed maturity and responsibility up til the retirement of player moderators. This badge has been retired. They are also immune to floodcheck and swearing.
Moderation History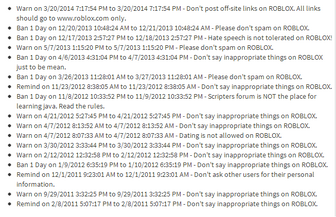 Moderation history is a part of the account that shows users their ban history. You can find the moderation history under "account settings." For example, if you were banned on the 5th of April, 2015, and you were un-banned on the 7th of April, 2015, you would be able to review the ban start, finish, and the Moderator Note. This section was removed in January 2016.
Badge Update Janurary 2017
With the change to the badge system, all former badges that were related to ROBLOX staff were replaced with the brand new administrator badge.
Ad blocker interference detected!
Wikia is a free-to-use site that makes money from advertising. We have a modified experience for viewers using ad blockers

Wikia is not accessible if you've made further modifications. Remove the custom ad blocker rule(s) and the page will load as expected.