Motors
are one of the SurfaceTypes of a
BasePart
, and is represented by a small cylindrical addition in the center of the desired surface (seen right). If the motor is attached to an unanchored part, the part will begin spinning. The Motor object is used to make movable Joints between two Parts.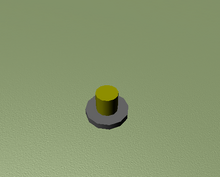 Trivia
This section is a trivia section. Please relocate any relevant information into other sections of the article.
It has been mentioned numerous times by the ROBLOX Staff that they are looking forward to updating motor physics soon [1].
References
Ad blocker interference detected!
Wikia is a free-to-use site that makes money from advertising. We have a modified experience for viewers using ad blockers

Wikia is not accessible if you've made further modifications. Remove the custom ad blocker rule(s) and the page will load as expected.