The My Home section, found by clicking on the Home button at the top of the ROBLOX website, is the default page for when you log in. It features links to recent ROBLOX news articles, a feed for status updates from groups you have joined, a link to your recently played games, and more.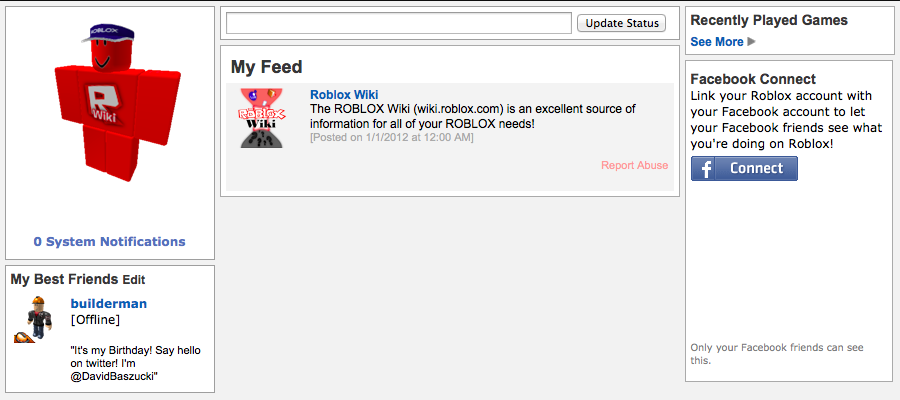 Character and Notifications
| | |
| --- | --- |
| On the far left of the page there is a picture of your character. Your avatar can be edited by going to the Character tab.Underneath, there is a link to your system notifications, which include updates from ROBLOX sent out to the entire playerbase. | |
Best Friends
| | |
| --- | --- |
| Underneath of your avatar and notification box is your best friends list. Here you can see what your best friends are doing (from their shout box) and whether or not they're online. | |
Status Update
| | |
| --- | --- |
| You can use this so that people who visit your profile can see what you're up to. | |
Feed
| | |
| --- | --- |
| Your feed is in the center of the page, just beneath your status update box. Your feed is a way to keep you updated with all of your groups. Every time someone uses the shout box in one of your groups, you're updated here! | |
Recently Played Games
| | |
| --- | --- |
| On the far right is the 'Recently Played Games' box. Your most recently played games can be seen here. If you want a larger list, you can click the See More button. | |
Facebook Connect
| | |
| --- | --- |
| On the far right, underneath of the 'Recently Played Games' box is the Facebook connect box. If you have a Facebook account, you can link it to your ROBLOX account! See connecting your account to Facebook for more info. | |
Ad blocker interference detected!
Wikia is a free-to-use site that makes money from advertising. We have a modified experience for viewers using ad blockers

Wikia is not accessible if you've made further modifications. Remove the custom ad blocker rule(s) and the page will load as expected.