This article is about ROBLOX's blog. For the feature on the ROBLOX website, see News (website feature).
The News link on the website leads to the community blog. There are actually more places for ROBLOX news than just that.
Blogs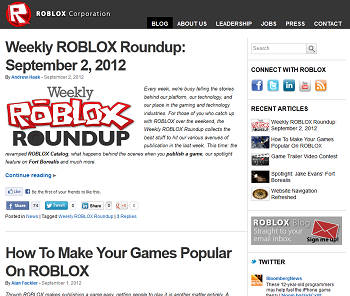 The blogs are where the Admins post big update announcements, new hat deals, and other big things that are happening. They don't post there every day, but it's a good idea to check it every week or so.
There are a lot of neat things deep in the blog pages, such as when Doom started working on the wiki and when Builderman gave an interview to Ms. X and the time when we first passed 50,000 users.
Twitter
Twitter is an online messaging system, it's sort of like text messages and works the same way as our Best Friend Feed. ROBLOX has an Official twitter account, and we use it to announce big things like updates or when the site is down due to a problem. It's a good place to quickly learn about issues and updates.
Ad blocker interference detected!
Wikia is a free-to-use site that makes money from advertising. We have a modified experience for viewers using ad blockers

Wikia is not accessible if you've made further modifications. Remove the custom ad blocker rule(s) and the page will load as expected.