Nightfall Clan, abbreviated "NFC", is a relatively well-known war group on ROBLOX that was founded by Soccerpr89 and is currently led by Thelegender. It has over 22,000 members and is therefor considered a "superclan".
Nightfall Clan has taken part in multiple notable wars and has been allied with many other superclans. Excluding alternate accounts and temporary leaders, Nightfall Clan has had fifteen leaders in total.
Nightfall Clan is generally well-liked and respected throughout the clan world Although, many people are apathetic towards Nightfall Clan due to its declining relevancy which was brought about by a failure to keep up with evolving standards for tech in other major clans. However, Nightfall Clan is known for being home to many skilled sword fighters, although most players don't hold this fact in very high regard due to most clans strictly using guns. 
Nightfall Clan has also been known for having fair forts and having a long, rich history, similar to other popular clans of its time, such as UCR and UAF. Nightfall Clan's most well-know fort is Topixa, which, over multiple versions, has racked up over 300,000 place visits.
Merely, as well as TheGamer101, have both supported NFC in the past via large donations allowing NFC to run a huge amount of ads. These campaigns saw little success.
Ranks
Initiate
The first rank in NFC. The only way to be in this rank is to join. You can get ranked up by wearing the uniform to a training or raid.
Warrior
The Second rank in NFC. So their journey begins.
Knight
Members of this rank are shown to be skilled and battle-ready. They are often called to defend the various bases of Nightfall Clan.
Templar
A rank that shows that members within the rank have leadership potential. They are trained in various leadership scenarios. 
Crusader
This rank is expected to do the harder tasks within the group. All members within this rank are expected to have good grammar, as well as know the tactics and skills used by the group. They are generally more mature then the lower ranking members, and are given a certain level of respect.
Paladin
The first middle rank. These members are are trained in many different special skills. This rank must be well skilled in all types of combat weapons. 
Vanguard
This rank is the third and last middle rank and is meant to take the place on an elites division, and as a stepping stone to an HR position.
Diplomat
Diplomats from NFC's allies.
Contributor
A contributor is someone who has contributed to the clan in a very beneficial way, for example; having led NFC or contributed with wealth.
Centurion
This is the first "High Rank" of the group and one-half of NFC's activity machine. These players host many of NFC's trainings.
Warlord
Warlords are loyal members to the group and are expected to help both lower ranking and higher ranking members with their tasks.  The second half of NFC's activity, these players may also head raids and defenses.
Council
This is rank is probably the highest rank that you can achieve. Members of the Council make up the major administrative and legislative body within the NFC High Command. They often head a department or have some major role necessary to NFC's welfare.
Chancellor
The leader of Nightfall Clan. Different leader names include: Chancellor (most of NFC's leaders) and Kaiser (Fireantfive's era). The 4 year long Chancellor title was changed in 2014 under Fireantfive's era for the first known time.
Leaders
[Chancellors of Nightfall Clan]
Soccerpr89 March 6th, 2010 - March 22nd, 2010
trick555 March 22nd, 2010 - March 26th, 2010
SoccerKing89 March 26th, 2010 - April 4th, 2010
Soccerpr89 April 4th, 2010 - April 7th, 2010
vince13579 April 7th, 2010 - July 1st, 2010
Soccerpr89 July 1st, 2010 - September 28th, 2010
buildXbuild September 28th, 2010 - December 15th, 2010
Soccerpr89 December 15th, 2010 - March 5th, 2011
Darxia March 5th, 2011 - August 12th, 2011
XNoBoomX August 12th, 2011 - September 24th, 2011
Fighters1234 September 24th, 2011 - June 25th, 2012
fireantfive June 25th, 2012 - August 11th, 2012 (Temporary Era)
Fighters1234 August 11th, 2012 - November 2nd, 2012
bob104810 November 2nd, 2012 - June 28th, 2013
[Kaiser] Fireantfive June 28th, 2013 - August 6th, 2014
BelmontLegend255 August 6th, 2014 - December 31st, 2014
AustinLink December 31st, 2014 - February 11th, 2015
[Supreme Leader] ezaiahs February 11th, 2015 - January 6th, 2017
Thelegender January 6th, 2017 - January 14th, 2017
(Vacant) January 14th, 2017 - January 16th, 2017
WoopiWoopi January 16th, 2017 - PRESENT
Divisions
These are all of the official divisions of Nightfall Clan, as owned by the Supreme Leader himself.
NFC High Command
The Nightfall Clan High Command is a private division used for the Officers of NFC (Centurion+) to discuss important and classified topics, as well as holding high rank meetings. The NFC: HC is made up of Centurions, Warlords, the Council, and the Supreme Leader.
Nightfall Innovations
The development group for NFC. This division creates everything NFC needs. Including building/scripting, graphics, video creation, etc.
NFC Bases
Active bases can be found on NFC's group page.
Active Base
Fort Topixa
 The fort is a popular fort, as it has over 270,000 place visits overall. It is an extremely fair base, with raiders either climbing over the cliffs or slipping between the fort walls to get into the base.
This base is swordfighting only, to make combat more fair. Also, there is a Hide Name GUI, so raiders or NFC members can hide and kill without being spotted. The base is located in a mild climate surrounded by snowy cliffs and mountains.
Raiders and NFC members spawn near each other, and away from the fort. There are little ponds and trees dotting the map. Nearing the base, there is a statue of Fighters1234 holding an NFC flag. Inside the walled compound is one main building. The building contains several rooms. There is a lobby on the first floor, as well as a jail. Players can take an elevator to the second floor. The second floor contains a capture point, as well as a meeting and rally room. Players must hold the capture point for 20 minutes to win a raid.
The main criticism of the base is that the time to recapture the base is a mere five seconds, therefore restarting the timer for the raiders.  A new version fort which was supposed to be based off of Topixa was eventually released in 2013. In March 2014, Fort Topixa was brought back to NFC by Fireantfive and eventually edited a part on the base where the window no longer exists, giving the raiders another way of getting into the base. On April 2014, ezaiahs an Advisor in NFC, changed Topixa with new updates including: killing water (kills if you step on it), another water pond with a bridge that can be operated by two buttons; on and off basically. He calls this Topixa, Topixa 1.5. Many users were not pleased with this update, but they managed to get over it.
Decommissioned Bases
Fort Virium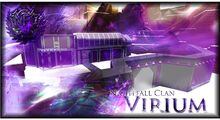 Fort Virium was the primary base for Nightfall Clan during bob104810's leadership. The base was built by Virium Corporation members. Three cores which were spread around the base were required to hold for approximately twenty minutes.  
Core A - Located within a cave near the base 
Core B - Located inside the base on the first floor. 
Core C - Located on the second floor of the base.

Core A and B were required to hold in order to access core C 
Virium's scripts were developed by Quenty. 
Arctic Outpost Frizno
thumb|300px|Nightfall Clan Arctic Outpost Frizno Built by: deathgiver23 Scripted by: bob104810 Frizno was a lightly used secondary base throughout Fighter1234's leadership. This fort was built by Deathgiver23, and scripted by bob104810. Outpost Frizno was typically only used if Topixa had been exploited, or was under renovation. Frizno not not very successful and it only has 7,000 visits (in total). The Outpost is located in a mountainous/ Arctic terrain. Unlike Fort Topixa, Arctic Outpost Frizno contains guns. The base is located at the top of the mountains in the map. Like Fort Topixa, this is a relatively easy base to raid. Raiders can climb the mountains over the walls to get into the base. They can also bypass the fort walls by going into a cave. This fort also contains the hide name GUI that is Topixa. The main base contains one single building, which is empty except for a flag. Raiders must capture the flag for a set amount of time in order to win a raid. The fort also contains a dock with a harbor.
bob104810 eventually closed down the base due to other bases being built. He eventually reopened the base for raid training exercises only.
Fort Caedis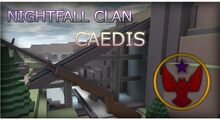 Caedis is the current main base for Nightfall Clan. The base is the first time in recent history that Nightfall Clan has had guns at one of their bases. The base is located on a beach on the southern shores of "Viridian," the Nightfall Clan nation. As of this writing, the base has over 50,000 place visits.
Caedis's scripts are based off of the previous Fort Virium's scripts. The scripts have been slighting modified to work better for the new fort.
Logos
Nightfall Clan has had many different logos since it's creation.
(Images to be added)
History [WIP]
Contents
Chapter I: The Creation
Chapter II: The New Era
Chapter III: Rise of a new Nightfall Clan
Chapter IV: Noboomer
Chapter V: Fighters1234
Chapter VI: The Dark Summer
Chapter VII: bob104810
Chapter VIII: The New Nightfall Clan
Chapter IX: End
–––––––––––––––––––––––––––––––––––––––––––––––––––––––––––––––––––––––––––––––––––––
Chapter I: The Creation
Nightfall Clan was created on March 6th 2010 by user Soccerpr89. (WIP)
–––––––––––––––––––––––––––––––––––––––––––––––––––––––––––––––––––––––––––––––––––––
Chapter II: The New Era
Rewriting
–––––––––––––––––––––––––––––––––––––––––––––––––––––––––––––––––––––––––––––––––––––
Chapter III: Rise of a new Nightfall Clan
Rewriting
–––––––––––––––––––––––––––––––––––––––––––––––––––––––––––––––––––––––––––––––––––––
Chapter IV: Fighters1234
Rewriting
–––––––––––––––––––––––––––––––––––––––––––––––––––––––––––––––––––––––––––––––––––––
Chapter V: The Dark Summer
Rewriting
–––––––––––––––––––––––––––––––––––––––––––––––––––––––––––––––––––––––––––––––––––––
Chapter VI: bob104810
Bob104810 was appointed Chancellor of NFC on November 2nd 2012, being one of three possible choices and eventually winning the debate between fireantfive. Bob's first months were very successful, but following farther into his era showed more and more decline by the members and HICOM. Bob did however have his way of organizing and praising activity. His flaws quickly became greater as 2013 started. His activity started decreasing, and NFC was mostly maintained by the HICOM with the second in command (Fireantfive) at the spearhead. There was also a major rebellion conducted by a few members of the HICOM (including one Council member), but it ended in a failure and the members who participated were suspended. Bob104810 chose to forgive this and moved on but his overall activity was still decaying. In May 2013, WannaBet, the newly appointed head of warfare, commenced a war on RSF together with NFC. Initially, the war was in a bad state and it went downhill fast for NFC. Bob put a lot of blame on WannaBet himself, who were rumored to not have anything to do with it. RSF eventually claimed victory. Bob104810 retired on June 28th 2013 and fireantfive was appointed as the new Chancellor.
–––––––––––––––––––––––––––––––––––––––––––––––––––––––––––––––––––––––––––––––––––––
Chapter VII:
When Fireantfive got ownership of NFC, he was fully prepared. His first order of business was to militarize NFC which angered and upset many members. Clans were fought in the earlier part of Fireantfive's era, such as Electro Legion, Green Gods and R.A.A. In late 2013 though, NFC lost activity and numbers quickly. Fireantfive sought to improve this activity by commencing war with The Grand Imperium, which in hopes would result in a victory and raise the activity once again. However, the war ended in a defeat for NFC, but the activity had certainly increased. Sometime later, after 2014 had progressed, Fireantfive started realizing himself that his leadership up until this time had not been in NFC's interest. He then conducted a new start for NFC, promising to change it into the better. A new empire combined with the old empire of NFC. He started by rebuilding the military, which had not been successful ever. During the summer of 2014, in late July, The Vaktovian Empire went into war with NFC in which they successfully defeated NFC. However, NFC's main focus during this war was to uphold a good standard of activity. On August 6th of 2014, Fireantfive resigned (https://forum.roblox.com/Forum/ShowPost.aspx?PostID=142817540) and appointed leadership to BelmontLegend255. 
–––––––––––––––––––––––––––––––––––––––––––––––––––––––––––––––––––––––––––––––––––––
Chapter VIII: BelmontLegend255
BelmontLegend255, a re-occurring NFC veteran since 2011, had a good stance in leadership, primarily in foreign affairs. During his era, NFC went into war with Vortex Security and X-101st, where both ended in a victory to NFC. The activity was decent, while development was a big issue that was mainly focused on during his era. During his era, the communication greatly increased between the HICOM since it's been lacking during Fire's era. NFC improved in areas such as internally with a talented head of internal affairs, itachi0111. Even though the era only lasted four months, it was both efficient and successful. On December 31st 2014, he abruptly and suddenly resigned. (https://forum.roblox.com/Forum/ShowPost.aspx?PostID=152956432). Because of the mass amount of decline following Belmont's resignation, NFC started to struggle.
–––––––––––––––––––––––––––––––––––––––––––––––––––––––––––––––––––––––––––––––––––––
Chapter IX: The Wave of Inactivity
NFC was given to the Council member, AustinLink. Austin was surprised by this sudden leadership change and was indeed unprepared. In a quick act, Austin sought to improve NFC to the best of his ability. Despite his efforts, he did not find time for himself to lead NFC in the proper manner as he was busy in real life as well as the stress of leading. This drove NFC into a month of inactivity with the HRs barely hosting activities and events. Roughly a month after he had started his leadership, he resigned and passed on the group to the current most active HICOM member at that time, Ezaiahs.
–––––––––––––––––––––––––––––––––––––––––––––––––––––––––––––––––––––––––––––––––––––
Chapter X: Supreme Leader Ezaiahs
WIP
Trivia
This section is a trivia section. Please relocate any relevant information into other sections of the article.
Ezaiahs was the longest standing leader of NFC. He led for almost two entire years. A total of 1 year, 10 months and 26 days.
During Darxia's era in 2011, Soccerpr89 rejoined around June to demand the group back to no success. Soccerpr89 eventually offered money but Darxia took the money, refused and exiled him. This led to Soccerpr89 creating the infamous Nightfall Army group.
From September 2011 until November 2012, mostly under Fighters1234's era, NFC accumulated 11,000 members (from approximately 5,000 to 16,000) which is the biggest member increase NFC has witnessed within a year's time.