Noob
Talk

0
2,758pages on
this wiki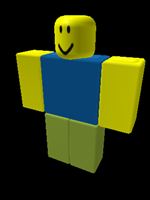 The word "Noob" is a word initially part of the universal internet jargon, but now is only primarily used within online games including ROBLOX, the original definition meaning "Someone new" now almost completely gone. On ROBLOX, "Noob" is used to describe someone who engages in activities that break The ROBLOX Rules or are doing things that are found offensive/annoying/frustrating to other users, i.e. killing people on their own team, deleting other people's creations.
Standard Looks
The stereotypical Noob usually contains one of the three things:
A player with a blue Torso, yellow Head and Arms, and green Legs. This look was common for a noob at around 2008-2009, now it is taken in amusement by veterans and sometimes looked apon.
They sometimes have the shirt with a "R" in the top right corner or the Bloxxer T-shirt.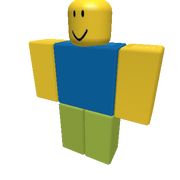 Modern Day Usage of "noob"
People call others noob due to spawnkilling, spamming, scamming, or because of inappropriate behavior. A handful of people who get frustrated easily on Roblox are occasionally prone to using the word noob to irritate or insult another player. The word noob is also used by people to help incite trolling and flaming. Shedletsky often uses the word "noob", in game. It is unknown why he says it.