Normal Sword
Talk

6
2,758pages on
this wiki
The Normal Sword (or also referred to as the Linked Sword) is the most basic sword in ROBLOXia.
It was the last object to be added to the basic Brickbattle loadout. It is found in most (if not all) sword fighting games. Players can slash the sword at other players to kill them. (10 damage on slash, 30 damage on lunge).
From it's creation, the normal sword has inspired many more swords inculding Firebrand, Darkheart, Venomshank, Ice Dagger, Ghostwalker, Illumina, and Windforce, as well as many player-created swords.
It is by far one of the most popular weapons in ROBLOX.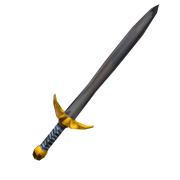 Games Made by Administrators that feature the Normal Sword
Glass Houses
Ninjas vs. Samurais