NOTICE: Please note that not all information in this article may be up-to-date.
Pinewood Builders (formerly known as Pinewood Labs) is a British-based sci-fi building group with sectors in aerospace, space technology, mining, weaponry, physics, and much more. It is currently ROBLOX's second largest science-themed group, standing around 77,000 members.
Founded in 2008 by Diddleshot, (as a group in 2009) Pinewood is one of ROBLOX's oldest existing building groups. The group is also recognized for contributions to the community with models to assist in game development and its group-created games, having a booth at BLOXcon Chicago in 2013, as well as the origins of many famous developers, such as alexnewtron, Zephyred, madattak, and Rukiryo.
History
In May 2008, Diddleshot and a group of friends founded Pinewood as Pinewood Labs. The earliest known facilities built were the Dog Food Factory in September, and the ROBLOX Powerplant in October. The powerplant was the first power station facility built on ROBLOX, while the Dog Food Factory was replaced by the classic game Train Demolition.
In November 2008, a successor to the Dog Food Factory, the Bread Factory was open to the public; a large bread production factory with giant machinery which sole purpose is feeding a noob named Bob.
A third facility, Pinewood Labs (headquarters) followed in December, which presently was 'ruined' into Diddleshot's CRUSH A BUILDING! game. 
In 2009, Pinewood Labs was renamed Pinewood Builders, and it was founded as a group with the latter name with the then-new Groups feature.
In February 2009, a second headquarters was built; details about it are unavailable.
In November 2009, numerous ideas for facilities were proposed and created; the ROBLOX Laundromat, Pinewood Computer Core, Pinewood Space Station, Pinewood Research Facility (2009), the Mega Miners game, and the Pinewood Space Shuttle Advantage spacecraft.
In 2011, the Pinewood Builders Security Team was established to protect facilities, although its role was merely roleplay at this time.
In 2012, Diddleshot released the present-day Pinewood Headquarters, based in Hong Kong.
In June 2012, MRDAFG and Legodude88 found the Pinewood Intelligence Agency.
In February 2013, Diddleshot released a major update to the Computer Core, allowing the reactor core to initiate a meltdown. This would gave the Security Team a major role in protecting the core from blowing up. Throughout 2013, Pinewood, its facilities, and its divisions began to enter a modernisation phase.
In July 2014, the Pinewood Research Facility reopened after a full renovation of its exterior and interior design.
In January 2015, JKR Productions announced the creation of the Pinewood Builders Oil Platform.
In February 2015, Woofmacht founded the Pinewood Broadcasting Corporation.
In April 2015, Vice President Legodude88 was removed, followed by a large number of other members leaving the group.
In June 2015, the Pinewood Intelligence Agency and Pinewood Security were reinstated with new replacements following April 6th.
In June 2015, Diddleshot announced that construction on the Pinewood Research Facility would be restarted after around a year of inactivity. Updates to the ROBLOX Laundromat and Mega Miners followed.
In December 2015, DeathPossession and Momolivia were appointed to the Vice President position. The Pinewood Builders Oil Platform is released. 
In January 2016, largeTitanic2 was appointed as Head of Security.
In March 2016, xBlueSparks was appointed as PBC President.
In July 2016, Vatnajokull was appointed as PBC President.
In August 2016, MRDAFG returned to Pinewood. A reformation for the Internal Affairs Committee took place. Legodude88 returned as Vice President, leaving later in the month. 
In October 2016, The PIA constructed a new headquarters facility and began work on training facility concepts for PBST. 
In November 2016, Head of Security, largeTitanic2 resigned from Pinewood Builders. 
In January 2017, The beta stages of PBCC's FilteringEnabled initiated at the peak of exploiting began to cause a negative effect on Pinewood's reputation. Game-wide updates had broken a lot of things, including PRIDe. AkaSwift was appointed as PET Director. 
In February 2017, Galaxerz was selected to succeed Vatnajokull as PBC President. The PBST Security Commissioner election took place, which was met with backlash from lower ranks. 
In March 2017, Woofmacht, a former Pinewood Executive, returned to Pinewood. Woofmacht was appointed to the Board of Directors. Woofmacht established the Pinewood Administrative Assembly as a democratic system to organise the immense number of high ranks in the group. A stable build of PBCC FE was released.
In April 2017, Major reformations began as Woofmacht was appointed as Head of Security. Cajess was appointed to the position of Artistry Director. Diddleshot and Woofmacht decide to reform PBC by demoting the entire PBC administration and the middle ranks, removing the Editing and Journalism divisions of PBC, and hired robbeshens as PBC President again. Trains at the PBCC were finally fixed with the help of IAC members Gonow32 and theonlyinvincible. 
In May 2017, Theonlyinvincible was appointed to the position of Scripting Director by Diddleshot. Theonlyinvincible helped to create a successor to the previous admin commands system named PRIDe. He and Diddleshot also made major updates to the Pinewood Computer Core.
In June 2017, Pinewood Administrative Assembly shuts down. Pinewood's human resources division was created.
Websites
Pinewood has its own website as a zone for the latest group news, submitting job applications, and for group entertainment. The website however was shut down after it was proven difficult to pay for its site domain, plus the lack of people using it.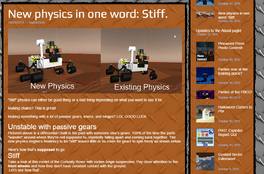 Inactive Sites
Ranks
The group has many ranks that a member can have in Pinewood. To achieve one of the following ranks, you have to meet the requirements of the said rank and send a promotion request to the assigned supervisor.
Members
This rank is automatically achieved; it is the given rank when you join the group.
Artists
Artists are experienced designers who make fan art, signage, textures, and more in the development of Pinewood facilities.
Artistry Supervisor
Artistry Supervisors are artists with trust and responsibility. They are picked by the Board of Directors and are those who manage Artistry promotion requests.
Media Team
The Media Team are responsible for broadcasts, news, and any form of official group media. These people are also in Pinewood Broadcasting Corporation.
Media Supervisor
Media Supervisors are journalists with trust and responsibility. They are picked by the Board of Directors and are those who manage Media Team promotion requests.
Advanced Scripters
Scripters are the programmers of game development, with knowledge in Roblox Lua and Mathematics.
Scripting Supervisor
Media Supervisors are scripters with trust and responsibility. They are picked by the Board of Directors and are those who manage Scripters' promotion requests.
Advanced Builder
Showing skills in any field of advanced design and construction of ROBLOX games.
Building Supervisor
Building Supervisors are Builders with trust and responsibility. They are picked by the Board of Directors and are those who manage Builders' promotion requests.
Internal Affairs Committee
The Internal Affairs Committee provides main group ranks to members of the PIA, allowing them to have input on development and management.
Honorable Retired Executives
As the name would suggest, they are past HRs of Pinewood Builders. Only achieved from being a retired executive.
Board of Directors & Executives
The Board of Directors and Executives combined are a team of executives responsible for development of official facilities, management, and advisors to the President.
Woofmacht (Director of Operations, Security, Media, and Human Resources)
G0LDENLUIGI (Director of Building)
MRDAFG (Director of Public Relations)
theonlyinvincible (Director of 

Scripting

)
Cajess (Director of Artistry)
SigmaTech (Creative Director)
Vice President
The Vice President is the second to the highest head of the company. This position is currently vacant.
Secretary to the President
The Secretary to the President, formally known as the Chairman Secretary, is a rank handpicked by the President. Much is unknown about the actual duties of the Secretary. Currently held only by FDSA123567.
President - Alt
This rank is unachievable. This rank is exclusive to the alternate accounts of the President.
President
This rank is unachievable. The head of the company.
Pinewood Divisions
All official Pinewood groups are held by only Diddleshot with exception to official Pinewood Fan Club groups, which must be verified by the Board of Directors.
Key = Shutdown / Closed / No longer owned by President; Inactive
Pinewood's privately owned security force tasked to protect Pinewood facilities.
The PBST is currently headed by Woofmacht, Head of Security.
Many members of the PBV have been seen as inactive as of May 2015.
Communication/planning group for Pinewood Executives, Veterans, and Affiliates.
Elite taskforce used for exploit defense and advanced protection to Pinewood places.
The PIA is currently headed by Woomacht, Head of Intelligence.
The PIA was founded by Legodude88 in 2012.
Division used for research and development of aerospace-related topics.
Group is currently being reformed.
Division used for the news and development of Pinewood's game "Mega Miner".
Pinewood's current official news agency for news reports, entertainment, and broadcasts.
Launched in February 2015 to compete with the Pinewood News Network until its shutdown in April 2015.
Group branding based on the British Broadcasting Corporation (BBC)
The PBC was relaunched following the shutdown of the Pinewood News Network on December 23, 2015.
PBC is currently lead by UltimatePlasmaGuy, PBC President.
Pinewood's official emergency management and facilitation group. (~1320 members)
Divided into 3 subgroups:

Medical Division
HAZMAT Team (Hazardous Materials Team)
Fire Safety Team

Currently under development. Soon to come will possibly be new privileges, abilities, features, and vehicles.
PET is currently lead by Lynbean, PET Director.
Group Facilities
A large space station located in Earth's orbit, with artificial gravity, and docking and refueling for supply, passenger, and cargo ships to and from planetary missions.
Rockets launched from the Pinewood Computer Core dock here as well.
Once notoriously abbreviated "PISS" when it used to be named the Pinewood International Space Station.
Pinewood classifies the PSS as an inactive facility. Also, the spacecraft here are broken.
A 12 story office building in Hong Kong as the business headquarters of Pinewood Builders.
Pinewood's third HQ building.
In the PBV room on the 12th floor, a self destruct system can be activated only by Diddle himself. This burns the building to the ground. Controls executives can use are fire alarms and lockdown.
Also known as Project CRATER in the early stages.
A training zone enclosed in a dome in the Sahara Desert where security are trained to protect Pinewood's interests.
Directly connected to the Pinewood Research Facility by an underground tram.
A large research facility complex located in the Sahara Desert.
Majority of the facility, including the Computer Core, is underground due to the heat conditions of the Sahara Desert, and likely for security reasons as well as to serve as an extension of the Computer Core.
Recently completed with visible changes from the original building. Still, it remains largely empty.
Divided into three sections; the Pinewood Builders Exhibition, the underground facility, and the surface facility.
Pinewood's second most visited game.
An underground nuclear computer reactor core facility, miles beneath the Pinewood Research Facility.
If the reactor core's temperature gets too high, it will trigger a reactor core meltdown capable of destroying the entire facility.
Pinewood's first facility to reach 1,000,000 visits.
A launch center, possibly located in the Sahara, where Space Shuttle Advantage is launched into space to deploy a satellite in low Earth orbit.
Prior to the automated launch, you were able to manually land the shuttle.
Games
An automated factory that produces bread in different colors, sizes, and unknowingly feeds all its products to Bob the Noob.
A game based on Pinewood Labs's headquarters in 2008, where you can destroy the building with a crusher, Mega Miner vehicles, or with gear.
Pinewood's most visited game.
A game based in a city laundromat where you wash your clothes, or chuck an unsuspecting fellow customer into the wet, spinning washing machine.
In summer of 2017, a new update added homes, an accessory building, a park, etc.
Pinewood's third most visited game.
A game where you mine and dig resources with your pickaxe, or the giant Pinewood drilling vehicles.
A recent update added an event where magma will rise from the ground, and workers must evacuate.

Pinewood's third game with an evacuation event.
The evacuation event is currently broken due to the magma not rising and earthquake not doing anything.
Advertising
Ad blocker interference detected!
Wikia is a free-to-use site that makes money from advertising. We have a modified experience for viewers using ad blockers

Wikia is not accessible if you've made further modifications. Remove the custom ad blocker rule(s) and the page will load as expected.