The information on this page is outdated and needs to be updated.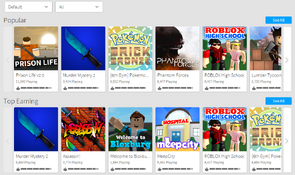 A place is the ROBLOXian term to describe a game that has been created by a player and posted to ROBLOX and is one of the core components that make up ROBLOX. Places were released in June 2006 by Telamon. All public places can be accessed via the "Games" tab on the main page of ROBLOX and can be filtered via tweaking the different filter options (listed below):
Default
Popular
Top Earning
Top Rated
Featured
Recommended
Top Favorite
My Recent
My Favorite
Purchased
Friend Activity
Top Paid
Popular in VR
Genres
All places are classified by their genre, which can be set by the creator of the place in its configuration menu, to help people find a specific sort of place. Genres can be set by the creator to determine what types of personal gear players may bring into the place - depending on the creator's place preference configuration, players may or may not be allowed to bring gear that doesn't correspond with the place's genre. There are multiple genres that can be used to help you find different places:
Building
Horror
Town and City
Military
Comedy
Medieval
Adventure
Sci-Fi
Naval
FPS
RPG
Sports
Fighting
Western
A Skate Park genre had existed for a certain amount of time due to the massive increase in skate-park places during the DisneyXD-sponsored Skate-park Contest. however after the contest, the amount of skate-park places fell dramatically, and, as such the Skate Park genre is now hidden.
Making a place
Creating a Place
In order to create a place, go to the "Develop" page on the ROBLOX website (this requires that you be logged in). This page houses a list displaying all the places and items you currently own (these are in separate sections, which can be browsed through via the list menu on the left) but also allows you to create new places and items (players that do not have a Builder's Club membership may only create T-Shirts, Places, Decals, and Models). To create a place, click on the "Create New Place" button and select a template.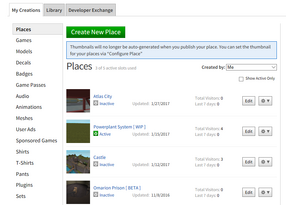 Editing the Place
To edit the place itself, first activate it by clicking on the power symbol under its name which should say "Inactive"; this will allow players to access it publicly.  Then, click on the "Edit" button. A new window will open with your place in it. You are now in ROBLOX Studio. If you are new to ROBLOX Studio, there will be simple tutorials on how to move around the site.
All users may have a maximum of 200 places active at one time as of September 27, 2016 (as announced on the developer forums). Note that you are only able to have a certain amount of places active at the same time.
Accessing the Advanced Building GUI
The advanced building GUI, or most known as ROBLOX Studio, grants greater versatility to the user and can be used to make better creations, though it takes more practice to use effectively. To open up the advanced building GUI on your desktop, use the ROBLOX Studio application instead of using your browser to launch the place.
Configuring the Place
To configure a place, simply select the gear icon on the right side of your place's entry, then select "Configure Place" from the drop-down box. Configuring a place allows you to:
Change the place's name
Change the place's icon
Change the place's thumbnail image/video. Costs 10 ROBUX and 500 ROBUX respectively.
Choose whether or not game access is sold
Change the place's description
Change the place type (Game Places are places that cannot be changed by players playing within their public servers; Personal Servers are places that can be modified by players playing within their public servers).

Change the amount of players allowed on one server. The maximum amount of players is 50. (Originally, only MEGA places could hold 50 players and the max for non-MEGA games was 20.)
Change place access privileges
Change the place's copy-lock protection (Disabling this allows people to copy your place and edit it for their own needs.)
Turn place comments on/off
Choose what gear can be added to your game and displayed on your game page (Only Gear from the official ROBLOX Catalog is allowed for this feature; you will net a small percentage of the money players pay to buy gear from your game page.)
Change the game's chat settings (Bubble, Classic, or Both)
Change the game's genre (as seen by the public)
Change the types of gear allowed and whether gear of all genres are allowed, or just gear of the place's genre
Reset the place to a starting template
Game Playability
By default, a place is created in Experimental Mode, which indicates that FilteringEnabled is not on. Places active and in Experimental Mode may not be played by accounts with an age under 13.
Templates
The user can choose to start building on one of six starting templates:
"Baseplate", consisting of a large, empty stretch of land.
"Control Points", consisting of a pre made map and Control Points
"Flat Terrain", consisting of a large empty stretch of flat Terrain.
"Team Deathmatch"

"Free for All"

"Capture the Flag"
As part of the 2011 updates, all templates contain Stamper Building Tools.
Top 12 places
Most Visited
| Ranked | Place Name | Visits | Favorites | Creator |
| --- | --- | --- | --- | --- |
| 1 | Jailbreak | 799,000,000 | 3,000,000 | Badimo |
| 2 | Prison Life v2.0 | 362,000,000 | 1,000,000+ | Aesthetical |
| 3 | Murder Mystery 2 | 357,000,000 | 1,000,000+ | Nikilis |
| 4 | ROBLOX High School | 294,000,000 | 1,000,000+ | Cindering |
| 5 | MeepCity | 284,000,000 | 977,000+ | alexnewtron |
| 6 | Work at a Pizza Place | 271,000,000 | 1,000,000+ | Dued1 |
| 7 | Natural Disaster Survival | 258,000,000 | 1,000,000+ | Stickmasterluke |
| 8 | Phantom Forces | 157,000,000 | 782,000+ | |
| 9 | Superhero Tycoon | 155,000,000 | 588,000+ | firebreathingdragon6 |
| 10 | Apocalypse Rising | 111,000,000 | 636,000+ | Gusmanak |
| 11 | Sword Fighting Tournament | 37,000,000 | 259,000+ | TheGamer101 |
| 12 | Murder Mystery | 25,200,000 | 224,000+ | Nikilis |
Most Favorited
| Rank | Place Name | Favorites | Place Visits | Creator |
| --- | --- | --- | --- | --- |
| 1 | Natural Disaster Survival | 1,000,000+ | 258,000,000 | Stickmasterluke |
| 2 | Work at a Pizza Place | 1,000,000+ | 271,000,000 | Dued1 |
| 3 | Roblox High School | 1,000,000+ | 294,000,000 | Cindering |
| 4 | Paintball! | 446,000+ | 44,000,000 | Daxter33 |
| 5 | Catalog Heaven | 480,000 | 31,500,000 | Seranok |
| 6 | Welcome to the Town of Robloxia | 426,000 | 24,000,000 | 1dev2 |
| 7 | Apocalypse Rising | 419,000 | 29,600,000 | Gusmanak |
| 8 | Base Wars: The Land | 400,000 | 37,000,000 | D4rk886 |
| 9 | Natural Disaster Survival | 331,000 | 30,300,000 | ImaginationMachine |
| 10 | Heli-Wars: Desert Attack | 323,000 | 12,800,000 | DrewsomeB |
| 11 | Hide and Seek (30 Fields) | 307,000 | 13,800,000 | lando64000 |
| 12 | Armored Patrol | 298,000 | 13,400,000 | ImaginationMachine |
Old Templates
These were the old Templates:

"A Happy Home in Robloxia", consisting of a stamper-made house along with terrain, which received strong criticism.
"Starting Brick Battle", consisting of 2 opposing walled towers, two different teams and a base plate. Players get all of the standard Roblox fighting tools.
"Baseplate", consisting of a large stretch of Terrain.
Personal Server Starting Place
Trivia
There are Currently over a Billion games on roblox.
Ad blocker interference detected!
Wikia is a free-to-use site that makes money from advertising. We have a modified experience for viewers using ad blockers

Wikia is not accessible if you've made further modifications. Remove the custom ad blocker rule(s) and the page will load as expected.