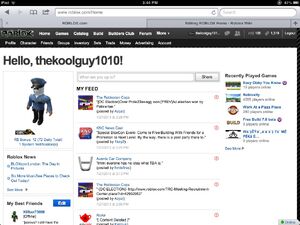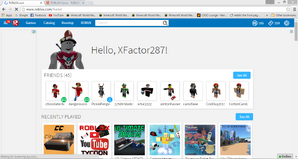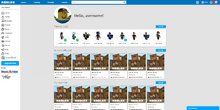 The ROBLOX Homepage is the landing page, and often the first page that registered users view when they entered the site. Clicking the ROBLOX Logo in the corner links to the homepage, and typing "roblox.com" in the address bar redirects to the homepage if the user is logged in.
Mid 2012 - Late 2014
This homepage features 3 columns. The first column shows your character, recent blog posts, and some friends, the second column shows your feed (showing group shouts, friends' status changes), and the third column shows your recently played games
The currently used homepage no longer uses columns and instead has several rows of information. The first row consists of your character's picture and a large greeting. The second row shows your friends. The third and fourth row show your recently played games and favorite games, respectively, and the fifth row shows games that your friends have played. After the fifth row, the page retains the column style of the older homepage, with your feed on the left and blog posts on the right.
Players have shown negative responses to the new home page since the unnecessarily large graphics leads to more space being taken up and more scrolling to see all the information.