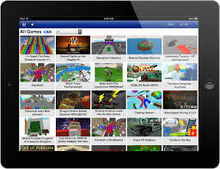 ROBLOX Mobile, also known as ROBLOX iOS and ROBLOX Android, is the mobile application version of the game available to iOS devices, Amazon Kindle devices, and the recent Android devices (Android Ice Cream Sandwich 4.0.3 or later). The application allows purchasing in-game items from the Catalog and, on the iOS and Android versions, enables access to purchase Android-exclusive/iOS-exclusive items, which are typically paid with Google Play Credit/iTunes money, viewing the player's inventory, friends, groups, and messages, purchasing Robux and/or Builders Club memberships with iTunes money, and features a fully-functional 3D client.
Comparison of ROBLOX mobile and desktop versions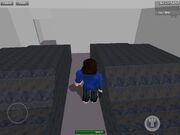 The mobile graphics are very similar to the 2-3 levels on the graphics scale since material textures and dynamic lighting are removed, but still decals, day/night skyboxes and custom skyboxes exist. This is to limit lag (thus possible risks of crashing) on mobile devices, which are weaker than PCs.
If a (usually high quality) game has many models, a large and complex map, and/or anything that can increase lag on a mobile device, a warning is put up on the game's page. To allow players to easily access games that load fine on mobile, the game page is formatted to mostly display games with such trait.
Supported platforms
iPhone
iPhone 8 Plus (untested)
iPhone 8 (untested)
iPhone 7 Plus (Excellent)
iPhone 7 (Excellent)
iPhone SE (Excellent)
iPhone 6S plus (Excellent)
iPhone 6S (Excellent)
iPhone 6 Plus (Very Good)
iPhone 6 (Very Good)
iPhone 5S (Good)
iPhone 5C (Good)
iPhone 5 (a tiny amount of games are unable to run, untested)
iPhone 4S (some games are unable to run, untested)
iPhone 4 (most games are unable to run with this device)

iPad
IPad pro 9.7 (excellent)
IPad pro (excellent)
iPad Air 2 (Excellent)

iPad Air (Very Good)
iPad mini with Retina display (Very Good)
iPad mini (Good)
iPad 4 (a tiny amount of games are unable to run, untested)
iPad 3 (some games are unable to run, TESTED)
iPad 2 (most games are unable to run, TESTED)
iOS 7.0+ maybe needed for some features.
iPod
5th iPod touch (some games are unable to run, untested)
iPod 6G (Very good)
Current devices with version 4.0.3 or later.
Kindle Fire HDX 7 (3rd Gen)
Kindle Fire HDX 8.9 (3rd Gen)
Fire Phone
Fire HD 6 (4th Gen)
Fire HD 7 (4th Gen)
Fire HDX 8.9 (4th Gen)
Glitches and bugs present
The old "ROBLOX is under maintenance" HTML is sometimes present in the ROBLOX Mobile with the new UI. It also does this bug on the old ROBLOX with the old UI.
It is not possible to drop objects on the ROBLOX mobile version.
Sometimes the jump button doesn't appear.
There is a rare glitch where the jump button becomes "stuck", preventing a player from jumping unless they reset.
There was a bug where you could zoom out through everything.
On some games, there is a bug where the move and jump buttons disappear, so you can't move which you need to rejoin the game to fix it.
Often, the Movement and Camera Mode wouldn't change when changed in settings.
There is a bug where you could get logged out of your account.
Oftenly, the Chat page won't load up
Criticism
The mobile app is often criticised for its tendency to drain the battery life of the player's device. It is also criticised due to its glitchiness and tendency to make the player's device heat up rapidly.
The mobile site in PC
The mobile site of ROBLOX used to also be usable on PC, by just typing m.roblox.com instead of web.roblox.com or www.roblox.com. This now redirects the user to web.roblox.com.
Trivia
This section is a trivia section. Please relocate any relevant information into other sections of the article.
When the app first was released, it was rated 9+ in the App Store and E10+ in Google Play (similar to ESRB ratings). It was somewhat raised to 17+ in 2015, then in 2016, this rating was raised to 12+, presumably due to players making inappropriate games which either contain violence or brief nudity.
External links