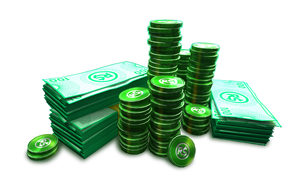 Robux (singular Robuck[1]), stylized as R$, is the sole universal currency on Roblox. Introduced on May 14, 2007, as a replacement of ROBLOX Points, Robux was one of two currencies on the platform alongside Tix (which were removed on April 14, 2016).
Robux is known as Roblox's primary currency by the community and staff; all paid items created by ROBLOX within the catalog are sold for Robux, and user-created content like microtransactions and gamepasses also follow the same rule. The name 'Robux' is a portmanteau of Roblox and "bucks" (bux).
Earning Robux
Prior to the release of Tix and Builders Club, all users earned 5 Robux daily as a log-in reward and 1 Robuk per place visit.[2]
Builder's Club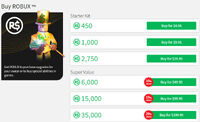 Players who purchase Builder's Club, Turbo Builder's Club or Outrageous Builder's Club receive a daily Robux stipend. Users in a Builder's Club membership earn 15 Robux, while those in Turbo Builders Club or Outrageous Builders Club earn 35 and 60 Robux respectively. Players also receive a 100 Robux bonus for their first-time purchase of a premium membership.
Catalog Sales
BC, TBC and OBC users can sell T-Shirts, Shirts, and Pants to earn a profit after Marketplace fees are calculated. Users can earn 70% of the item price (30% marketplace fee). This also applies to selling gamepasses, developer products and Limited items. NBC users are able to sell gamepasses and developer products, and will earn 10% of the price (90% marketplace fee).
Game Development
Players can sell Game Passes and Developer Products to earn Robux in the same manner as Catalog items. Additionally, they can include gear on the game page, which will pay a commission to the developer every time a gear is purchased on that page.
Group Earnings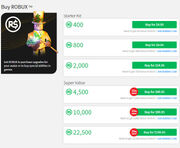 A group can sell virtual items in the Catalog like an individual user. However, all the Robux earned is deposited into the "Group Funds" which can then be distributed among members.
Purchasing Robux
Roblox released the ability to purchase Robux through their website on September 26, 2008, alongside the guest feature.[3] The ability to purchase Robux through the Roblox Mobile App was released on December 11, 2012[4]. Robux can also be purchased through a Roblox Card, which can be purchased at many stores in the USA, Canada, UK, Australia and New Zealand, such as GameStop, Walmart, FYE, and more. Users with an active premium membership will receive an additional Robux bonus if they purchase Robux. Users who do not own a credit card can use Rixty, which allows them to purchase gift cards and use CoinStar machines to change the spare change into Robux. At the moment, Rixty does not work outside of the US. For players outside of the USA, prices are displayed as their country's currency equivalents (however exchange rates are not fully taken into account by Roblox).
| Robux | Price (USD) | Robux Bonus (BC-Only) | Additional Notes |
| --- | --- | --- | --- |
| 40 Robux | $0.49 | Unknown | Only available through the Roblox Chromebook app. |
| 80 Robux | $0.99 | 10 Robux | Only available through the Roblox Mobile App and Roblox Windows 10 App. |
| 160 Robux | $1.99 | Unknown | Only available through Rixty |
| 240 Robux | $2.99 | Unknown | Only available through Rixty |
| 320 Robux | $3.99 | Unknown | Only available through Rixty |
| 400 Robux | $4.95 | 50 Robux | Not available on the Roblox Windows 10 App. |
| 800 Robux | $9.95 | 200 Robux | |
| 1700 Robux | $19.99 | None | Only available through the Roblox Xbox One App. |
| 2000 Robux | $24.95 | 750 Robux | Not available on the Roblox Xbox One App. |
| 4500 Robux | $49.95 | 1,500 Robux | |
| 10,000 Robux | $99.95 | 5,000 Robux | |
| 22,500 Robux | $199.95 | 12,500 Robux | |
| 75,000 Robux | $499.95 | 25,000 Robux | Discontinued shortly after being introduced in early 2015. |
Robux Scams
Main article: Scam
Due to the fact that Robux is often acquired by spending real money, as well as how most items on the website can only be acquired using the currency, it is commonly used as the focal point of scams which are made with the intent for the scammer to steal the Robux or other valuable assets from the victim's account.
Examples:
"Hello. As appreciation for playing (RANDOMGAME), you have been qualified to receive a Roblox game card code for thousands of Robux instantly for free. Redeem your game card instantly, simply go to (WEBSITE). No information or download is required!
Hi There, You are eligible to receive thousands of Robux immediately. Your code: [RANDOM CODE]. Get your redemption codes before its too late! Go to [WEBSITE]!
That's right THOUSANDS of Robux for free, no account information, NO DOWNLOAD, simply fill your username.
Do you want ROBUX absolutely FREE? Tired of scams?No login info or downloads! Simply go to the following link: [WEBSITE]
🍀I got thousands of ROBUX and access to EVERY Game Pass just by getting a code.🍀Tired of scams?💚No login info or downloads!💚👉Simply go to the following link👉: [WEBSITE]
😎ROBLOX is giving access to ALL Game Passes and Thousands of ROBUX throughout the entire summer to everyone! This is an official event so no info needed. Go to the following link for your code 👉: [SCAMSITE]
The bots are often the default player model when you make a new account, showing that they were made specifically to send spam messages. Additionally, many bots share similar basic avatars. Roblox encourages players to click the Report Abuse button and report these bot accounts. If there is a scam website, players can email the link to info@roblox.com.
Scam Bots

These bots are programmed by an individual or group seeking account access to gain personal information. They are most commonly found in comment sections of games and items. They will usually say things along the lines of "THATS RIGHT, I received 25k Robux INSTANTLY from (scamsite.suffix) and no information is needed!".
Friend request and follow Bots
This species of Bots Follow and friend request a certain user with usernames like "Clickme", "DontClickme", and "Read/DontReadmyDesc". The Friend Server update has lowered the chance of getting these bots, but by now most of these bots have been terminated.
Exchanging Robux
Currency Exchange
With the November 2008 release of the RoblEX currency exchange, players were given the ability to exchange Tickets into Robux and vice-versa[5]. The Roblox's exchange rate is based on user demand and typically hovers around 1 Robux for about 20 tickets for market orders. However, on April 14, 2016, the currency exchange was shut down following the removal of tickets. To this day the only currency exchanger in ROBLOX to this day is Developer Exchange (abbreviated to DevEx), which turns Robux into hard cash and also requires Outrageous Builder's Club.
Developer's Exchange
Main article: DevEx
The Developer's Exchange (DevEx) was released on October 1, 2013. This feature allows developers who meet specific qualifications to exchange Robux into real-life currency (USD) on a monthly basis. In order to qualify for DevEx, users must be currently subscribed in Outrageous Builders Club, have earned over 100,000 Robux, have a valid PayPal account, and be verified. Currently, developers earn $350 per 100,000 Robux exchanged through DevEx.
Robux value
The value of Robux has decreased since its initial release. With 3,297 Robux, a Roblox Blog article once declared Miked as the wealthiest Roblox player. Today, many users have upwards of 40,000 Robux in their accounts without being considered as wealthy by the community.
Current theories about the dramatic shift in Robux value are embedded in the idea of supply and demand. Supply and demand are typically inversely related, and the balance of both establish the equilibrium price. For example, by selling most of their items in the catalog for Robux and incentivizing users to exchange Robux for real-life currency through the Developer's Exchange, the demand for Robux has increased. This increase in demand compared to a minimal increase in the supply of Robux creates a deficit of Robux.
According to the Developer's Exchange, 400 Robux is equal to $1, while a 2013 blog post announced that one ROBUX is equal to one penny.[6]
Robux usage
For 100 Robux, users in a premium membership can create groups.
For 500 Robux, group owners can create a clan for their group.
For 1,000 Robux, users can change their username.
Users can upload thumbnails for their places. An image thumbnail requires 10 Robux, while a video thumbnail requires 500 Robux.
Users can purchase items in the catalog for varying amounts of Robux, excluding free items.
Users can bid for an advertisement for their games, clothing, groups or models for different amounts of Robux.
Players can buy game passes and developer products in different games.
Users can create a new rank for their group for 25 R$ each.
Users can upload an audio starting at 35 R$. Price depends on how long the audio is.
Robux can be used for game passes and gears and models in games.
References