ROBUX (singular ROBUK[1], plural ROBUX) or ROBUCK, stylized as R$, is the sole currency on ROBLOX. Introduced on May 14, 2007, ROBUX is known as ROBLOX's primary currency by the community and staff; all ROBLOX-created items within the catalog are sold in ROBUX.
Before ROBUX
Before ROBUX, ROBLOX points existed, which you would get for playing mini games, which came before user-created games.
Earning ROBUX
Prior to the 2007 release of Builders Club and Tickets, users earned 10 daily as a log-in reward and 20,000 per place visit.[2]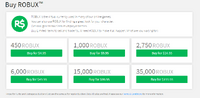 ROBLOXians who purchase a premium membership receive a daily ROBUX allowance. Users in a Builders Club membership earn 15 ROBUX, while those in Turbo Builders Club or Outrageous Builders Club earn 35 and 60 ROBUX respectively. Players also receive a 100 ROBUX bonus for the first-time purchase of a premium membership.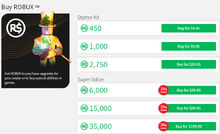 ROBUX Scams
Since many poor ROBLOXians are desperate for ROBUX, anonymous hackers have created fake sites that tend to give out free ROBUX, but in reality, they'll infect your device with a virus. Once a player will activate the generator, he or she will be asked to copy and paste a message on a game's comment sections, telling other people that they've won ROBUX. Also, some ROBLOXians have created games that give out "FREE ROBUX". Those games contain a maintenance GUI that looks like ROBLOX is asking for your password. However, any data entered will go straight to the creator of the game. THERE IS NO WAY TO GET FREE ROBUX! To add to this, there are also bots to message the player and would say their name and the name of the place in ROBLOX they were just on, claiming that they have won a free ROBLOX card containing massive amounts of ROBUX, giving them a link that would scam the user.
ROBLOX influences people to click the Report Abuse button on these players. And if it's a website, email the website to info@roblox.com

Purchasing ROBUX

ROBLOX released the ability to purchase ROBUX through their website on September 26, 2008. The Guest feature was released on the same day. [3] The ability to purchase ROBUX through the ROBLOX Mobile App was released on December 11, 2012[4]. ROBUX can also be purchased through a ROBLOX Card. ROBLOX Cards can be purchased at many 7-Eleven, GameStop, Walmart, Toys R Us, f.y.e, Target, Best Buy, CVS/Pharmacy, Future Shop, and Sainsbury's stores in the USA, Canada and England. Users with an active premium membership will receive an additional ROBUX bonus if they purchase ROBUX. Users who do not own a credit card can use Rixty, which allows them to purchase gift cards and use CoinStar machines to change the spare change into ROBUX. At the moment, Rixty does not work outside of the US.
| ROBUX | Price (USD) | ROBUX Bonus (BC-Only) | Additional Notes |
| --- | --- | --- | --- |
| 80 | $0.99 | 10 | This is only available through the ROBLOX Mobile App and ROBLOX Windows 10. |
| 400 | $4.95 | 50 | |
| 800 | $9.95 | 200 | |
| 1,700 | $19.99 | Unknown | This is only available through the ROBLOX XBOX One App. |
| 2,000 | $24.95 | 750 | |
| 4,500 | $49.95 | 1,500 | |
| 10,000 | $99.95 | 5,000 | |
| 22,500 | $199.95 | 12,500 | |
Exchanging ROBUX
Currency Exchange
With the November 2008 release of the RoblEX currency exchange, ROBLOXians are given the ability to exchange Tickets into ROBUX and vise-versa[5]. The RoblEX's exchange rate is based off user demand and typically hovers around
1 for about
17 for market orders. However, on April 14, 2016, the currency exchange was shut down following the removal of tickets, the secondary currency.
Developer's Exchange
Main article: DevEx
The Developer's Exchange (DevEx) was released on October 1, 2013. This feature allows developers who meet specific qualifications to exchange ROBUX into real-life currency (USD) on a monthly basis. In order to qualify for DevEx, users must be currently enrolled in Outrageous Builders Club, have earned over
100,000, have a valid PayPal account, and be a verified account. Currently, developers earn $200 per
100,000 exchanged through DevEx.
ROBUX value
The value of ROBUX has increased since its initial release. With
3,297, a ROBLOX Blog article declared Miked as one of the wealthiest ROBLOX players. Today, many users have upwards of
40,000 in their accounts without being considered by the community as wealthy.
Current theories about the dramatic shift in ROBUX value are embedded in the idea of supply and demand. Supply and demand are typically inversely related, and the balance of both establish the equilibrium price.
As more users log into ROBLOX, ticket supply increases. This increase in supply creates a surplus of tickets, which therefore lowers the value of them. As a result, the ticket to ROBUK ratio increases (more tickets are required to "purchase" one ROBUX through the currency exchange).
By selling most of their items in the catalog for ROBUX and incentivizing users to exchange ROBUX for real-life currency through the Developer's Exchange, the demand for ROBUX has increased. This increase in demand compared to a minimal increase in the supply of ROBUX creates a shortage of ROBUX. As a result, the ticket to ROBUX ratio increases.
According to the Developer's Exchange,
400 is equal to $1, while a 2013 blog post announced that one ROBUX equal to one penny[6].
ROBUX usage
For

100

, users in a premium membership can create groups.
For

500

, group owners can create a clan for their group.
For

1,000

, users can change their username.
Users can upload thumbnails for their places. An image thumbnail requires

10

, while a video thumbnail requires

500

.
Players can purchase items in the catalog for varying amounts of ROBUX.
Trivia
This section is a trivia section. Please relocate any relevant information into other sections of the article.
Many users have created tutorial videos about how to get free ROBUX without being hacked or terminated. However, this is not possible. As the ROBLOX administrators have stated, there is no way to get free ROBUX. Some users have also created ROBUX generators which would grant players free ROBUX. These are common scams and we advise not to use these games.
Zed_Gaming has been terminated for his ROBUX tycoon.
References
Ad blocker interference detected!
Wikia is a free-to-use site that makes money from advertising. We have a modified experience for viewers using ad blockers

Wikia is not accessible if you've made further modifications. Remove the custom ad blocker rule(s) and the page will load as expected.