ROBUX
(singular
Robuck
[1]
), stylized as
R$
, is one of the two main currencies on
Roblox
. Introduced on the 14th of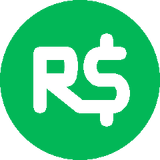 May, 2007, robux is considered as the primary currency, as almost every ROBLOX-created item in the
Catalog
 is sold in it. 
ROBLOXians
currently in a
Builders Club
(BC) membership receive a daily allowance of 15-60 robux in addition to the 10 tickets received when one signs on daily.
A Loyalty Program was introduced to increase a ROBLOXian's income by certain levels. The highest level of maximum boost income is 300%, meaning if that ROBLOXian is registered in the Classic Builders' Club (CBC), Turbo Builders Club (TBC), or Outrageous Builders Club (OBC), that player received a maximum of 45, 105, or 195 Robux respectively. This was eventually changed so that Builders Club members can earn up to r$3 bonus. This loyalty programme was discontinued in 2014.
Earning ROBUX
All Builders Club member receives a variable amount of robux per day, depending on the membership one has signed up for. BC, TBC, and OBC members earn 15, 35, of 60 Robux respectively, as well as a 100 Robux bonus for joining Builders Club.
All members in Builders Club can also create Shirts, Pants, and T-Shirts, and Gamepasses, which can be sold in the Catalog for Robux. They may also earn money by selling Limited or Limited/U items from their inventories.
Currency Exchanging
On the Roblox website, players may exchange currencies from tickets to Robux and vise-versa. In Limit Order, there will be Open Positions. Bid 15@15.000:1, Remainder 15, Status: Pending. Currently, one robuck is equal to 15 - 16 Tickets.  This is due to inflation (large amounts of cash being pumped into a system and too little coming out). Robux can also be redeemed with real-world currency by purchasing ROBLOX and Rixty Cards. Outrageous Builder's Club members who meet certain prerequisites may also exchange ROBUX into real-world currency through the Developer's Exchange.
Value of ROBUX
The value of robux has increased since it was first introduced. In 2007, the Roblox Corporation announced that miked had 3,297 Robux and declared him as 'one of the wealthiest Roblox players'. Today, many users have up to 40,000 Robux in their accounts without being considered as one of the wealthier users.
There are many reasons behind the increase of Robux within Roblox's economy:
More users logging into Roblox has caused the supply of both tickets and robux to increase.
The buy robux feature has allowed users to purchase Robux in quantities of up to r$100,000, which costs $499.95 USD.
Advanced Builders Club options, such as Outrageous Builders Club, awards participants with up to r$60 per day.
According to this blog post, the price of 17.6 billion ROBUX is equal to $176 million, causing one ROBUX to equal one penny. Through the Developer's Exchange, 400 ROBUX is equal to $1.
Other Uses of ROBUX
Users can create groups with R$100 if they have Builder's Club.
For R$1000, users can select another user name for their accounts, excluding names that are already taken..
Robux can be used to buy Badges.
Uploading audio requires R$100.
Purchasing assets also costs Robux, unless if such assets are free.
Trivia
Robux didn't always look like the icon shown above back in 2007, instead it was a golden coin with an "R" imprinted onto it. The icon was this: