Roblox 3.0 Body
Talk

4
2,758pages on
this wiki
Roblox 3.0 is a body shape and style developed by the creators and developers of
ROBLOX
.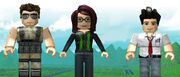 The design includes more realistic
face
and
hair
pieces. There are currently two 3.0 bodies,
Man
and  
Woman
. In many
groups
of ROBLOX the ROBLOX 3.0 bodies were banned from forts, trainings, and whole groups, such as 
Vortex Security
. Many
3.0 Package Remover Scripts
Were used in places to prevent 3.0's.
Criticism
Edit
Many users have criticized these styles as "bad" and "horrible", because such models are a different change of pace for ROBLOX users. Some of the criticism for said models are also partly due to the fact that more older users are more familiar and used to older body models, such as the Robloxian 2.0 and Robloxian 1.0 models. Many of users are also worried that ROBLOX might be sued for copyright infringements by the LEGO Group, as their arms are very similar to that of a typical LEGO minifigure. Also, lots of criticisms from these 3.0 Bodies originate from the model's realistic charateristics, which can be rather useful for online daters, people who participate in the often controversial act of Online Dating, to attempt to attract other users into dating said dater, Some Players even said in the comments that they were Blind from These Packages.
To display dislike/hatred for the Roblox 3.0 style. some users have created various items that displays such anger towards said style, yet a few users had even went as far as making hate groups against the models.