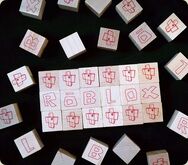 On September 26, 2011, Roblox announced a building toy block set. Each block was a one-inch wood square with decals on two sides. On one side were the letters of the ROBLOX logo, and on the other side there were some classic noobs. Each set cost $12 USD - shipping and handling included. Ages five and up.
Roblox Building Toy Block Sets Signed By Roblox Staff
There are a few rare sets of these block sets that were signed by the Roblox staff. 
The first ten orders received a unique set of these blocks.
Ad blocker interference detected!
Wikia is a free-to-use site that makes money from advertising. We have a modified experience for viewers using ad blockers

Wikia is not accessible if you've made further modifications. Remove the custom ad blocker rule(s) and the page will load as expected.