Home
Talk

3
2,758pages on
this wiki
Please read anons (non account users),
You will no longer be able to edit here for the following week due to persistent vandalism. Feel free to come back next week and edit away! For users with accounts, you will still be able to edit here. Please make an effort to edit here while the wiki is locked from anons editing.
I hope you guys going to Roblox Game Conference 2012 have a great time!
-Roblox Wikia Admins
Logs - Recent Edits - Defcon Index
Welcome to the Roblox Wiki
The wiki dedicated to Roblox that anyone can edit!
2,758 articles since creation of the Wiki.

---
Welcome to the Roblox Wiki!
Roblox Wiki, nicknamed Roblox Wikia, is an encyclopedia about Roblox, that anyone worldwide can edit. It is written by over 1000 users, and maintained by a few select persons. People are constantly making edits, sometimes resulting in over 200 edits per day! ROBLOX is a MMORG in development by ROBLOX Corporation that allows users to create whatever they imagine.
We are currently editing 2,758 articles.
All pages can be edited and you are welcome to join us and contribute to this wiki. Everyone is free to create a new page or edit an existing one. Please read the rules before editing! Don't be afraid to improve this Wiki, just stay away from spam posts and vandalism. Repeated spam messages will result in a ban (from this wiki), so please only contribute constructive edits! Feel free to edit a page and add information you know of, and fix bad grammar and spelling errors. If you are posting to a controversial page, make sure that the audience will not see offense to what you have written.
Did you know...
...that the last heads were released on February 2009?
Opinion
Please vote:
Who is your favorite Administrator other than XiaoXiaoMan?
DEFCON Rating
Our DEFCON Rating currently shows what level of vandalism the Wiki is experiencing.
Our current DEFCON level is:
| | |
| --- | --- |
| | Vandalism Watch: Risk of vandalism tonight. Watch in place until 8:00am EST tomorrow. |
Featured Article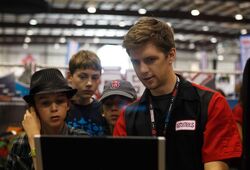 Latest coverage of Roblox's "mini rally"...
@RblxWikia