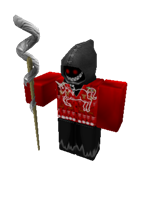 Note: 'Robloxian' redirects here. For a Roblox user, see User. 
A
Robloxian
is a user's character on Roblox. All the players on Roblox use their Robloxians to interact with the virtual world around them with the user. Robloxians can hold
Tools
and have one head, one torso, two arms, and two legs. Robloxians can wear
Heads
,
Faces
,
Hats
,
Gear
,
T-Shirts
,
Shirts
and
Pants
. They will die and respawn when they reach zero health or if their head or torso is removed.
Updates to the ROBLOXian
The first ROBLOXian had round studs and no moving limbs. In 2007, the first ROBLOXian with moving limbs was invented; however, the ROBLOXians looked like the original. Shirts and pants made the limbs look separate, and then limbs got separated altogether, and a new shaped head, often reffered to the shiny head, was added to the user. In March 2011, a new update was added that gave the Red Roblox Cap to male players and Pinktastic Hair to female players when they signed up. Also, now ROBLOXians can wear differently-shaped bodies/packages, such as the Robloxian 2.0 morph, which has more realistic limbs and torso.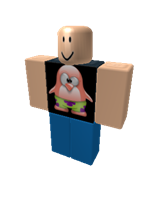 Facts
The first characters had medium green pants, a bright blue or a bright red torso, and a yellow head and yellow arms. This character is what many call a noob.
The newer morphs (such as the ROBLOXian 2.0 ) have more realistic body parts.
A user can change the colors of their ROBLOXian's limbs; if the user is not wearing a shirt, players can see the colour of its torso.
ROBLOXians from 2006-2007 had sharper limbs and different heads.
According to an admin post, a ROBLOXian is only 5 inches tall.