Community:Shedletsky
Talk

23
2,756pages on
this wiki
150px
Shedletsky
Joined
June 21, 2006
Disposition
Nice, But untrustworty
Status
Active
Well known for
Being an administrator and ROBLOX's creative director, being a ROBLOX sensation, being a game builder, being the developer behind "Sword Fights on the Heights IV".
Description
The creative ROBLOX director, One of the most important employees, Notable.
"Telamon" redirects here. For the user, see this profile.
Shedletsky is the Creative Director at ROBLOX. He works alongside other ROBLOX admins, such as david.baszucki. Shedletsky's main account was formerly "Telamon", for more info click here. He joined the ROBLOX Team in 2006 and has been working for ROBLOX ever since then. Shedletsky has created many popular places such as Nuke the Whales, and Sword Fights on the Heights. His full real name is John Shedletsky. He has a YouTube channel and uses Twitter. He does not answer PM's on ROBLOX because of the massive amounts he recieves. If you want to get in touch with him, you can find him on Twitter!
April Fools
In April Fools 2007, an April Fools joke was performed. Although the article is rather foggy, it seems to point towards Shedletsky purchasing a domain called "Gooblox". It's actually related to the prank where Shedletsky stated that ROBLOX was bought by Google and that it was going to be renamed to Gooblox. Three years later, another April Fool's joke was performed by Shedletsky, in the form of his Administrator Badge being removed or not showing up on his "Character's page." This did not remove his status on the ROBLOX website, however.
Physics
Ever since February of 2007, Shedletsky has been considering using custom collisions on meshes. (The idea was submitted by The super moderator, MrDoomBringer, supposedly before he was a moderator.) According to Shedletsky, it is simply inefficient to try and process collisions between multiple-ploy-ed objects. This, and even trying to create the meshes in game, has since put the idea at the bottom of the to-be-implemented list. However, at the end of his news post, Shedletsky implies that the idea appears to still be possible. It may take more developers to implement it, however.
Places
Home of the Toastmaster 3000
Pinball Wizards!
Rocket fight advanced.
My first ROBLOX level.
The Vanishing Point
Fun with Mjolnr.
Bombaroomagoo
Variable Load Physics Benchmark
Liminal Message
NPC Dialog Demo
Sword Training
Bug: Fly bug
TWISTER: Variable Loas Physic Demo
See Desc.
New Server Physics Benchmark
Filming
Telamon's Mad House
Icy Luge Deathbox
Trampoline Sword Fight
Crossroads 1024 - WIP
Bot Wars
Ye Olde Sword Shoppe
Cow Clicker! DATA PERSISTENCE DEMO
Fire Stress Test
Explosions Every 30 Seconds Or Get Your Money Back
If the Teleport fails, you die!
Magneta Deathbox
Name Swap
Shedletsky swapped his name from Telamon to Shedletsky in March 2012. With this, he transferred all of his assets (places, hats, etc.) to Shedletsky. It is currently unknown as to why he changed accounts.
Former Appearances
Shedletsky (on his Telamon account) was known for his shirt saying "I ♥ fried chicken". The gear he was holding was a turkey leg (which looked similar to a chicken leg) to go with his shirt.
Controversy
One of Shedletsky's places called "Explosions Every 30 Seconds Or Your Money Back" has a TNT Block from Minecraft, a popular PC game created by Markus Persson. Players are complaining that they will get banned for saying Minecraft and making the Models, while Administrators can add the Minecraft blocks to their game.
For a period of time, the very popular place, "Sword Fight on the Heights IV" had been converted into a Builder's Club Only place. Players complained about the change as Shedletsky had responded with a post:
I can ban Exploiters and get their main account.
I was curious how many tickets it would make (answer: a ton)
I was interested in whether there would be fewer noobs in-game (maybe)
It's my game and I'll do what I want.
Trololollollll
After that post, XiaoXiaoMan, A highly respected ROBLOXian for Roblox filmmaking and ranting, Stumbled upon this change and made two videos on YouTube about it. The first one, The change, And the follow-up as second. He ranted how Roblox tried to find every single way to "suck our wallets dry" or "fill their already overloaded and overstuffed wallets". He also ranted how immature the forum post made him look. The thread was deleted, But Xiao still obtained a copy of the Post's Picture. Watch XiaoXiaoMan's video Here - http://www.youtube.com/watch?v=8YNDHyLtscQ •DISCLAIMER - REVIEW CONTAINS MATURE LANGUANGE!
Trivia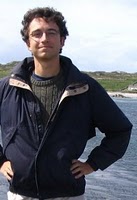 Some users say that Shedletsky is "1x1x1x1", the very famous hacker, since Shedletsky said that once on the forums. Many users believe this is a cover-up.
Shedletsky says "noob" all the time. It is unknown if he liked the phrase "noob" or not.
A well-known Roblox phrase derived from Shedletsky's goofs; "Blame John". This phrase occurred during the 2010 Egg Hunt when the first egg drop was not efficient. Since then, the phrase has been used in various gears such as the Magic 8-Ball and the Blame John protest sign.
One of Shedletsky's most popular looks was when he wore a "I ♥ Fried Chicken" shirt. Since then, it was been a joke to accommodate Shedletsky with fried chicken. It may also have been the inspiration for the Telamon's Chicken Suit from Telamon's Mystery Box.
Shedletsky's Mystery Box was once free to take. It is now off-sale and gives out free hats to users who still have it. It is also the first place prize for new video contests.
Shedletsky helped design a game in 2006 called Euclidean Crisis.
Shedletsky was interviewed on the Roblox news blog.
Shedletsky is in a Team Fortress 2 fan club, and once was in a My Little Pony fan group. He currently has left the group. For quite some time, his primary group was "LOL" but now is "Uber Builders Club"
He does not like Jaredvaldez4, which he has shown in several forum posts.
BCGames, a ROBLOXian well known for his Builder's Club Tycoon, commonly uses advertisements saying "But BCGames is still richer than Telamon."