This page needs improvements to meet the Roblox Wikia's standards.
This article needs a complete rewrite or cleanup to meet the Roblox Wikia's quality standards. Please proofread this page and edit this to make it revamped. The specific problems are: Items in the list need to be rearranged into release date order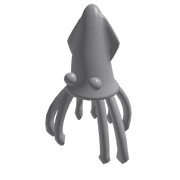 The Tentacles series consists of large, cartoony squids with varying color schemes that are worn as hats. The vast majority of them also reference the OVER 9000 meme in their descriptions. As of October 13, 2018, there are 10 Tentacles hats that have been published to the catalog.
The Tentacles Family
Other items