Tickets (shortened to "Tix" or "Tx") were a currency and was one of the two currencies of ROBLOX. Compared to the primary currency, ROBUX, Tickets had very little value. Tickets were earned by players through various methods including visiting the site daily and having other users visit their Place. Tickets could be spent on Catalog items and on advertisements.
Login Bonus
Users earned
10 as a daily login bonus. When the Ambassador program was still running, users earned
2 per link each day.
Place Visits
Users earned
1 for every place visit. If a user had Builders Club, he/she could make his/her place BC-only, and this payout would increase to
10 per visit instead.
Main article: Catalog
When tickets still existed, users were able to purchase certain items using their Tickets through the Catalog, including accessories, faces, and user-created content. Before the removal of Tickets, all sponsored items cost
1 to buy or rent.
Users could also earn tickets themselves by making their own clothing, such as T-Shirts.[1] Clothing designers who sold clothing in Tickets earned 70% of all revenue received from that item. Regular users earned 10% of all revenue and 90% if they were in Builders Club.
RoblEX (Trade Currency)
Main article: RoblEX
RoblEX, commonly known as the Currency Exchange, was a feature which allowed users to trade in their Tickets for ROBUX and vice versa. This in turn created the ROBLOX economy as the price of Tickets and ROBUX changed through supply and demand. Users could earn a substantial amount of profit by buying a large amount of ROBUX for a lower price, then exchanging them later for a larger sum of Tickets.
Along with Tickets, RoblEX was removed on April 14, 2016.
Discontinuation
On March 15, 2016, the founder and current CEO of ROBLOX announced through a blog post that tickets would be discontinued the following month, claiming that the currency was causing "confusion and delay" for many first-time users, it has been speculated that ROBLOX actually removed tickets because they wanted more money from ROBUX purchases. The ROBLOX staff also intend to release more free items on the catalog so customizing avatars without ROBUX would be creative and rich, and they believe ROBLOX would be simplified from the UI to the catalog to user accounting. This was also done to remove the incentive for users to login daily for a ticket bonus and create alt (alternate) accounts and ROBLOX is migrating to a community-controlled catalog which would allow developers to make body parts, hats, gear items, animations, and other assets.[2]
Several users have called this event "The Great Depression of 2016", as people who relied on ticket-to-ROBUX trading for profit lost their main way of getting money.
Tickets were not automatically converted to ROBUX, if they were not spent by April 14, 2016.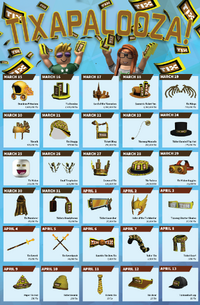 ROBLOX also announced plans to unveil a new rich achievement and reward system to replace the Ticket bonus. Currency Exchange was also removed at this time. Additionally, the price floor was lowered to
5 to compensate for these changes. Items sold with a Ticket price will have their price converted to ROBUX at a rate of 17:1. To 'celebrate' the Tickets being removed, exclusive, commemorative items were sold in the Catalog from March 15, 2016 to April 14, 2016. Currency trading rates were expected to fluctuate during this time period.[3]
These changes were tested on ROBLOX's GameTest1 site to test the economy before implementing this change. This was done to see if removing Tickets was a viable option.
A large number of users were unhappy and angry with this change and voiced their disapproval on the Forums.
Several users also believed this change was an April Fools' Day joke, as the announcement and removal took place between March and early April.
Due to the recent update, the removal of Tix has made it difficult for players to customize their avatars as the Trade Currency function provided a way for players to trade Tix in exchange for ROBUX, therefore allowing the ability to buy items. Tix allowed many players (especially the new players) to express themselves using a variety of different clothes they can choose from. However, as mentioned, new players are set to a more limited amount of items. For many developers, the DevEX function had become more difficult to use as Tix were vital in the process.
ROBLOX will make more money out of purchases, and started following the trend of mobile game developers who put optional in-app purchases for reasons.
Trivia
Tix were not actually removed from the website entirely. They were just hidden and can't be used in any way. This link shows that the Tix balance is still available to view.
Some users thought the Tickets update was an April Fools joke, due to the blog post's release date being March 15th.
Users could still see the items you purchased with Tickets through the transactions tab.
Daily bonuses were removed just before the Tixapalooza sale started to help prevent further Tickets farming and exploitation, and while it did help the economy, it limited what the Non-Builder's Club members could get from the sale and many didn't get some of the more higher-priced items.
A hat called "Gentleman's Spring Hat" was temporarily sold for

100

on the catalog after their removal; this was changed two days after release to

100

, but some players got the hat before the price fixed.
Ever since the removal of tickets, scams have increased, possibly because ROBUX can now only be obtained through purchase.
Most players spectulates that DanTDM was the one who "caused" the removal of tix.
References
Ad blocker interference detected!
Wikia is a free-to-use site that makes money from advertising. We have a modified experience for viewers using ad blockers

Wikia is not accessible if you've made further modifications. Remove the custom ad blocker rule(s) and the page will load as expected.